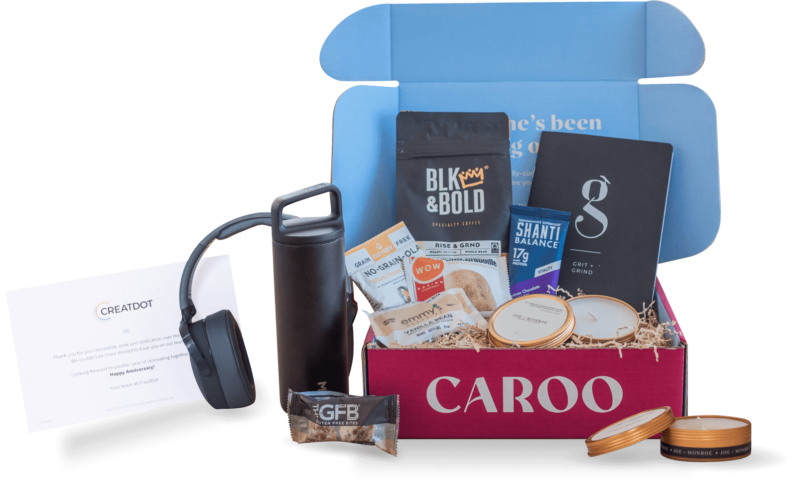 The first day at a new job with a new company can really make a new hire feel… well… NEW. That may include feeling overwhelmed… anxious… intimidated… and a host of other responses.
In case you haven't heard, giving welcome packages to new hires has a profound impact, not just on their first day. These affect your entire workforce, the company culture, retention rates, and your business's bottom line.
These kits can be packed with all kinds of goodies from snacks, t-shirts, and high-end tech gadgets, to office supplies, company swag, stickers, and mindful, wellness tools.
But how are they actually effective in the big picture?
The employee experience index is made up of six elements, essential to the success of new employees and the organization. These elements are:
► authenticity
► optimism
► purpose
► social connection
► belonging
One way to ensure you touch on all six elements is to make new employee welcome kits a staple component in your onboarding process.
"By keeping in mind positive people experiences, employee onboarding will help replace the Great Resignation with retention, and speed up the process of converting new hires into engaged and purpose-driven employees."
"Engaged and purpose-driven" – let that sink in for a second. People aren't plug-and-play. We crave purpose, belonging, and authentic relationships – in life and in the workplace.
New employee gift boxes create the foundation for a new hire's first day (first week, month, year, etc.) with a message of purpose. They're officially part of the team! And lucky for you, there are a ton of welcome kit ideas and options to choose from.
Here are our suggestions for the 17 best employee welcome kits to help ensure 2023 is a retention year, not a rebuilding year.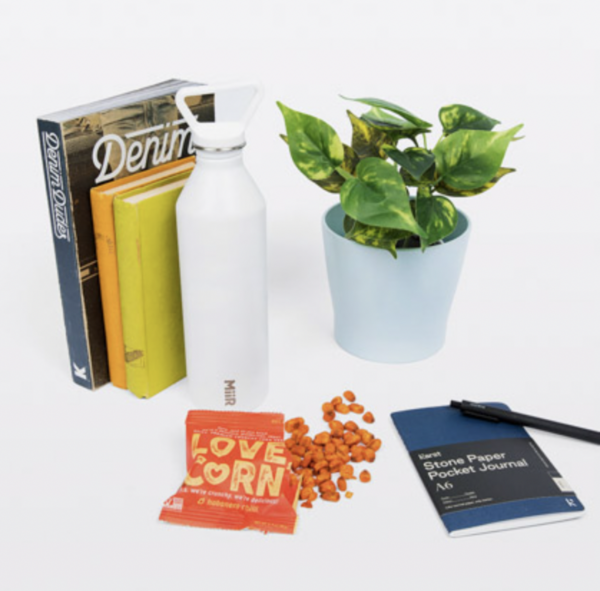 The new hire welcome kit that promotes taking a break. It's stacked with sweet and savory snacks, a stylish water bottle and a journal for all their note-taking needs.
Why this is a great welcome kit for new employees: The "R & R" New Hire Gift Box sends the message to new hires that their mental health is important and communicates clearly that it's okay to take five throughout their day.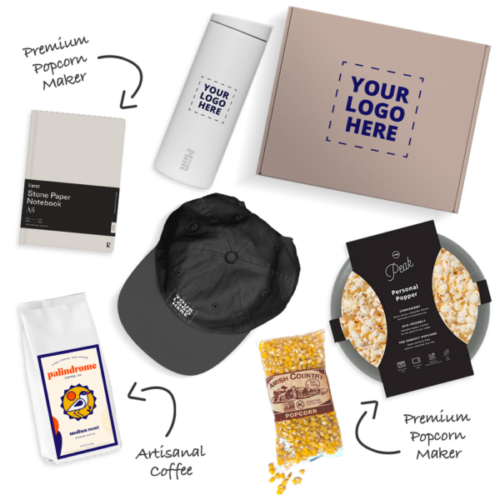 Artisanal coffee, gourmet popcorn, and some high-quality branded swag are just a few of the onboarding gifts for new hires included in this fabulous welcome package. Add in a stone paper notebook and customized travel mug and this starter kit for new employees is loaded with fun and function.
Why this is a great welcome kit for new employees: Company-branded swag shows newbies that they're part of the team, while the snacks and caffeine show that their happiness matters as well.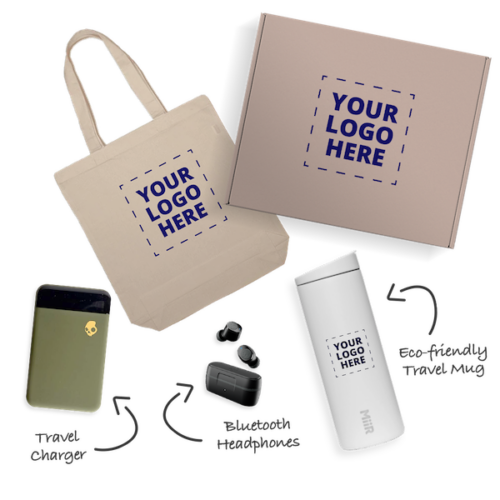 This welcome kit for new employees sets your newbies up with some super helpful tech-savvy treats. The Bluetooth headphones and wireless charger are perfect for staying connected on-the-go. And the company-branded travel mug keeps their coffee hot (or ice cold) so they can stay charged as well. The Tech Starter Pack is the real deal!
Why this is a great welcome kit for new employees: It's a tote bag-o-tech! The corporate gifts in this employee onboarding kit help new hires hit the ground running and send the message that you truly want them to succeed.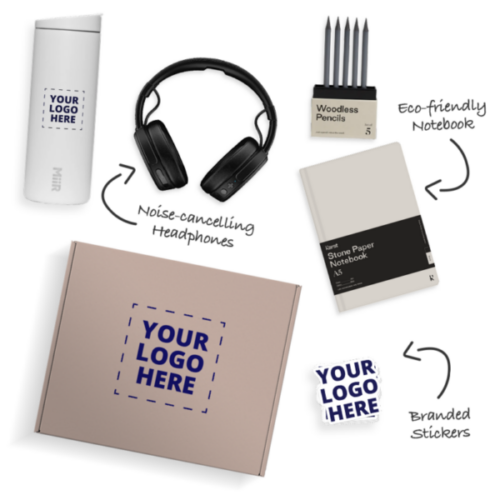 This welcome pack for new employees boasts woodless pencils, a stylish notebook, noise-canceling headphones, and more. Quality items, carefully curated to welcome your new hires in style are what the Premium Welcome Kit is all about.
Why this is a great welcome kit for new employees: Premium welcome gifts for your new employees aren't just fun and super appreciated. They're also an investment in your new hires' futures with your organization as they can contribute to better employee engagement in the long term.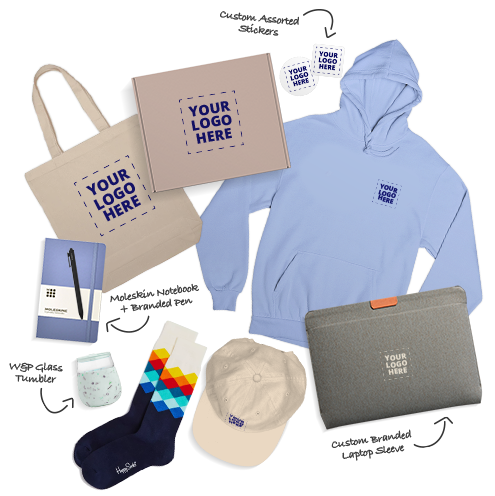 This new employee kit allows you to customize the welcome gifts for new employees packed inside. Choose from savory snacks, helpful work gear, and company-branded items to design your ideal onboarding pack based on your company's mission.
Why this is a great welcome kit for new employees: Meeting your new hire's needs before they even know what they are makes a great first impression on newbies in their onboarding experience.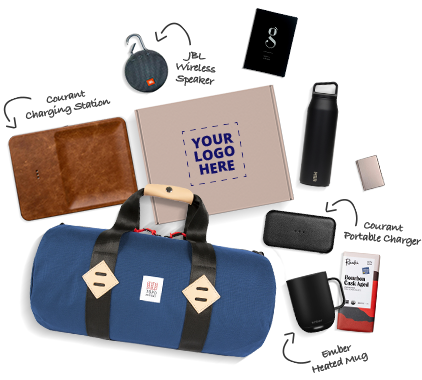 This onboarding package is custom curated with quality in mind. These products merge function with luxury in items like a portable charger, a JBL Bluetooth speaker, and a heated coffee mug. This high-end (yet practical) new employee welcome kit definitely makes a great first impression.
Why this is a great welcome kit for new employees: New employees are VIPs and treating them as such is simple and oh-so effective. When your new hires are treated as VIPs, they're more likely to perform at a higher level as well. So why not start things off on the right foot with the VIP Onboarding Kit.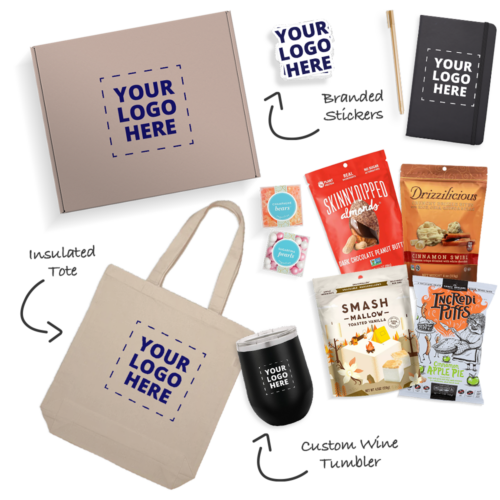 Sweet and simple! This new employee welcome gift is loaded with sweetly dipped, candied, and drizzilicious treats. There's also a custom wine tumbler, notebook, and tote bag, but did we mention the sweets?
Why this is a great welcome kit for new employees: Ensure a sugary sweet start to a new employee's first day at their new job with this thoughtful welcome box.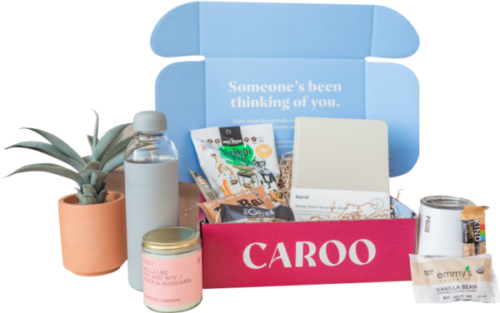 New hires may not even know what they need when they start a new job. The New Hire Swag Pack includes ways to ease those pain points with some sweet snacks and stellar custom-branded gear like a wine tumbler and a perfectly totable-sized notebook.
Why this is a great welcome kit for new employees: Meeting your new employees' needs before they even know what they are can score you some major retention points down the road.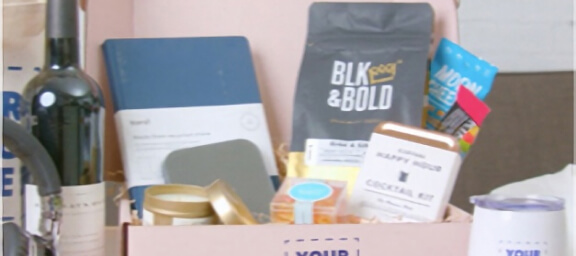 It wouldn't really be an icebreaker kit without icebreaker questions now, would it? Quirky quizzes, a cocktail kit, and some tasty treats make up this icebreaker box!
Why this is a great welcome kit for new employees: Give new employees a lil time on their first day to connect with each other and the existing employees. They can grab a snack and exchange icebreaker questions to start getting acclimated on day one.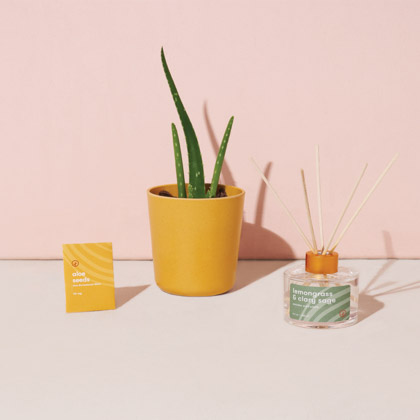 Lavender seeds and a grow kit make a great addition to a newbie's workspace. Paired with essential oils, a diffuser, and a community contribution for each box purchased, this welcome gift benefits far more than just your new team members.
Why this is a great welcome kit for new employees: People need balance. Emotional, mental, workload and work-life balances are all important and this welcome package helps by sliding a little zen into their days. You may even include a welcome letter – add an extra personal touch by making it a handwritten letter.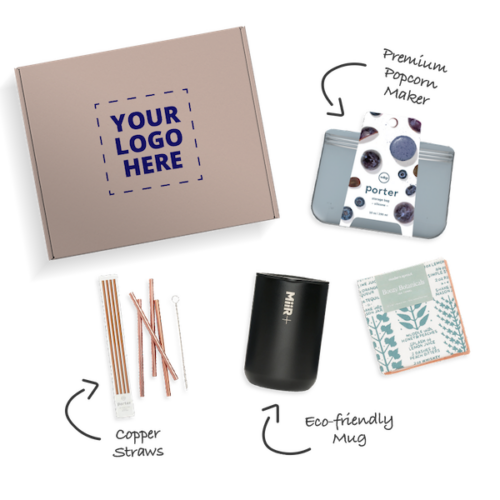 The theme of this purposeful pack is reuse and recycle. The boozy mixers can be stirred and sipped through the copper straws from the stylish and eco-friendly mug. Pairing all that with some perfectly popped popcorn makes this an employee welcome kit that keeps on giving.
Why this is a great welcome kit for new employees: It pairs quite well with your environmental company values, don't ya think? We have one planet and the Eco-Friendly Workspace Pack shows your new employees that you care about preserving it.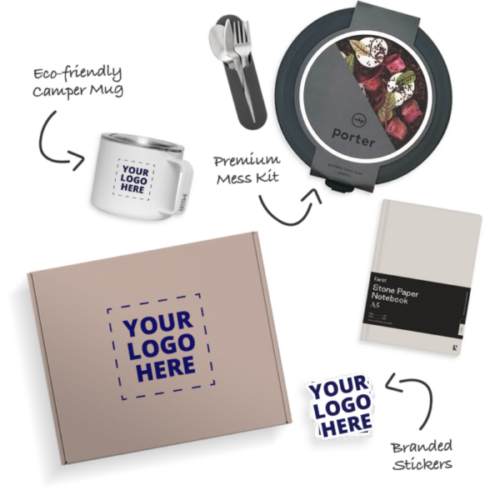 Perfect for in the office, working from home, or during the commute in between. The eco-friendly mug keeps drinks and soups hot and the mess kit is ideal for lunch on the go – complete with reusable utensils. Throw in a perfectly portable notebook and new employees will be covered in any setting.
Why this is a great welcome kit for new employees: Welcome gifts that make employees' lives easier are never a bad option. Giving that kind of support to new hires on day one shows that you want to contribute to keeping balance in their lives.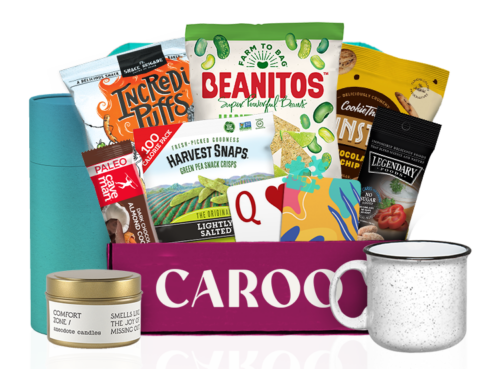 Wellness in general covers a lot of ground, but so does the Wellness Welcome Kit. New employees can snack guilt-free, light a candle for relaxation, and play a game to ease stress. Newbies can enjoy the products in this classy kit everywhere – from the office chair at work to their easy chair at home.
Why this is a great welcome kit for new employees: Because your employees' wellness matters and that starts from their first day. These new hire welcome gifts make sure that message is clear.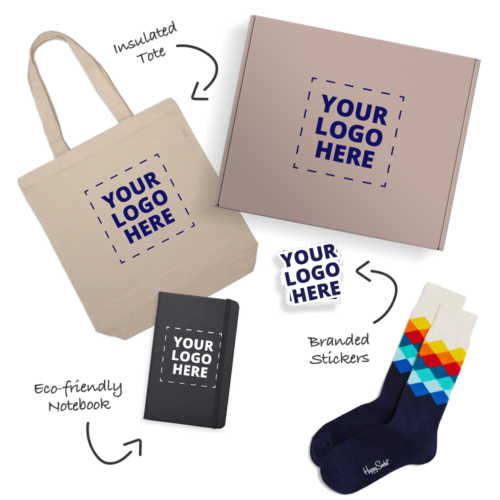 New hire swag comes in many forms and this onboarding kit packs a few examples. A company-branded tote bag for carrying all their gear, an eco-friendly notebook, and super fun socks are some of the gifts your new employees will unbox in this welcome box.
Why this is a great welcome kit for new employees: Day one at a new job can be overwhelming and a bit intimidating. This simple onboarding gift box is the first step to showing how happy you are to have your new hires on the team.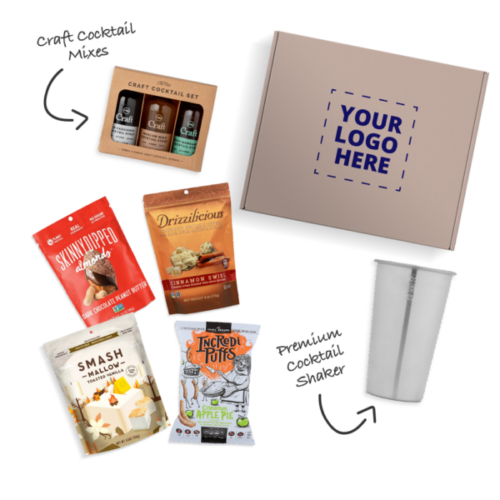 Send happy hour to their door, with a cocktail shaker, some delectable sweets, and a classic craft cocktail set. A welcome box of sips and snacks, perfect for virtual happy hours, team building events, or just because.
Why this is a great welcome kit for new employees: The tasty treats and cocktail mixers can be shipped to your new employee's homes before their first day so they can end their first day on the job by enjoying a virtual experience with their new coworkers.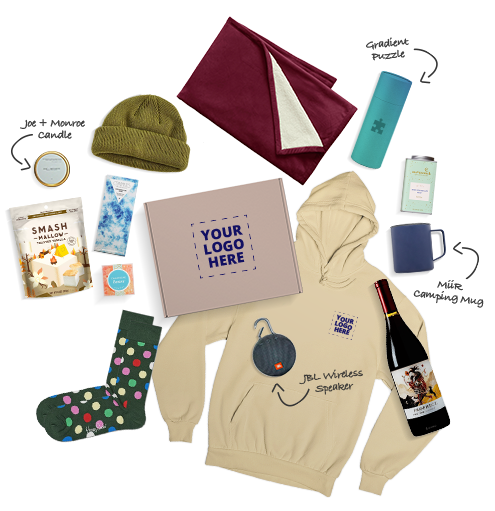 This welcome box is bursting with new hire swag and gear to keep them warm and well-entertained. From the beanie, the blanket, and the hoodie, to the wireless speaker, the snacks, and the wine, this new employee welcome kit has all the bases covered.
Why this is a great welcome kit for new employees: When the cold weather is coming, your new employees will be dressed for success with the swagtastic items in this awesome onboarding box.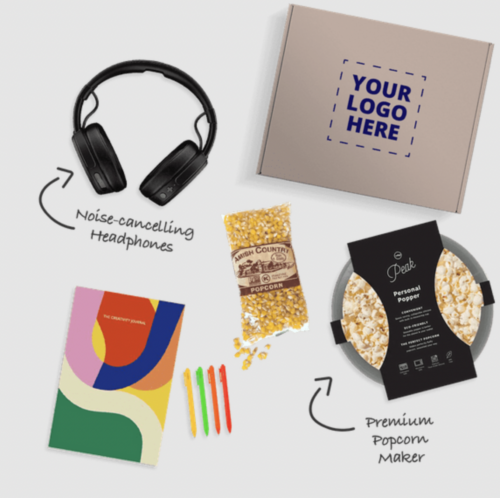 Gourmet popcorn with a premium microwavable bowl, noise-canceling headphones for e-learning, music, or conference calls, and a colorful pen set for drawing or color-coding their training notes. All the fun and fabulous tools in "Get Creative" promote your new hires' creativity from their first day.
Why this is a great welcome kit for new employees: Encouraging the creativity of your new employees is a personal touch that can boost their confidence, unblock old ways of learning, create deep connections with their colleagues, and foster better collaboration among the whole team. 
Conclusion
Remember showing up to the first day of work at a new job, full of excitement and that "I'm gonna change the world" kinda feeling?
Soon into that first-day bliss, you were herded into a big room with rows of chairs, each holding an employee handbook, a Bic pen, and a stress ball donning the company logo, given a quick slideshow on emergency exits, and sent off to your bland, empty cubicle to fend for yourself and figure things out.
Based on the lackluster launch to that career, if this was your employee experience, chances are, you probably didn't celebrate many milestone work anniversaries at that company.
Improve the employee experience in your organization by welcoming new hires with items that are mindful, useful, thoughtful, and fun.
People Also Ask These Questions About Employee Welcome Kits
Q: What is an employee welcome kit?
A: An example of an employee welcome kit is the "Day One Welcome Box," also known as #7 above. ICYMI, there are 17 great welcome pack ideas detailed above. Just scroll up!
Q: What are the benefits of sending employee welcome kits?
A: Some of the benefits of sending employee welcome kits are: improved employee engagement and retention, a more appreciation-rich work environment, an effective and efficient onboarding process, and creating a team-centered culture with company-branded swag and gear.
Q: How much should I pay for an employee welcome kit?
A: How much you should pay for an employee welcome kit depends on the kit you choose and how you customize the contents.
Q: Can I send employee welcome kits in bulk?
A: You can send employee welcome kits in bulk, which is perfect for when you have a hiring event and plan to onboard multiple new employees at once.