What our happy customers have to say
Over 500,000 employees can't stop raving about Caroo!
"We thought this was a #realfun way to connect us while giving-back. For each snack box sent to our Alkamists, a meal is being donated to Feeding America totaling 614 meals!"

Adrianne Court at Alkami Tech

Chief HR Officer
Get Started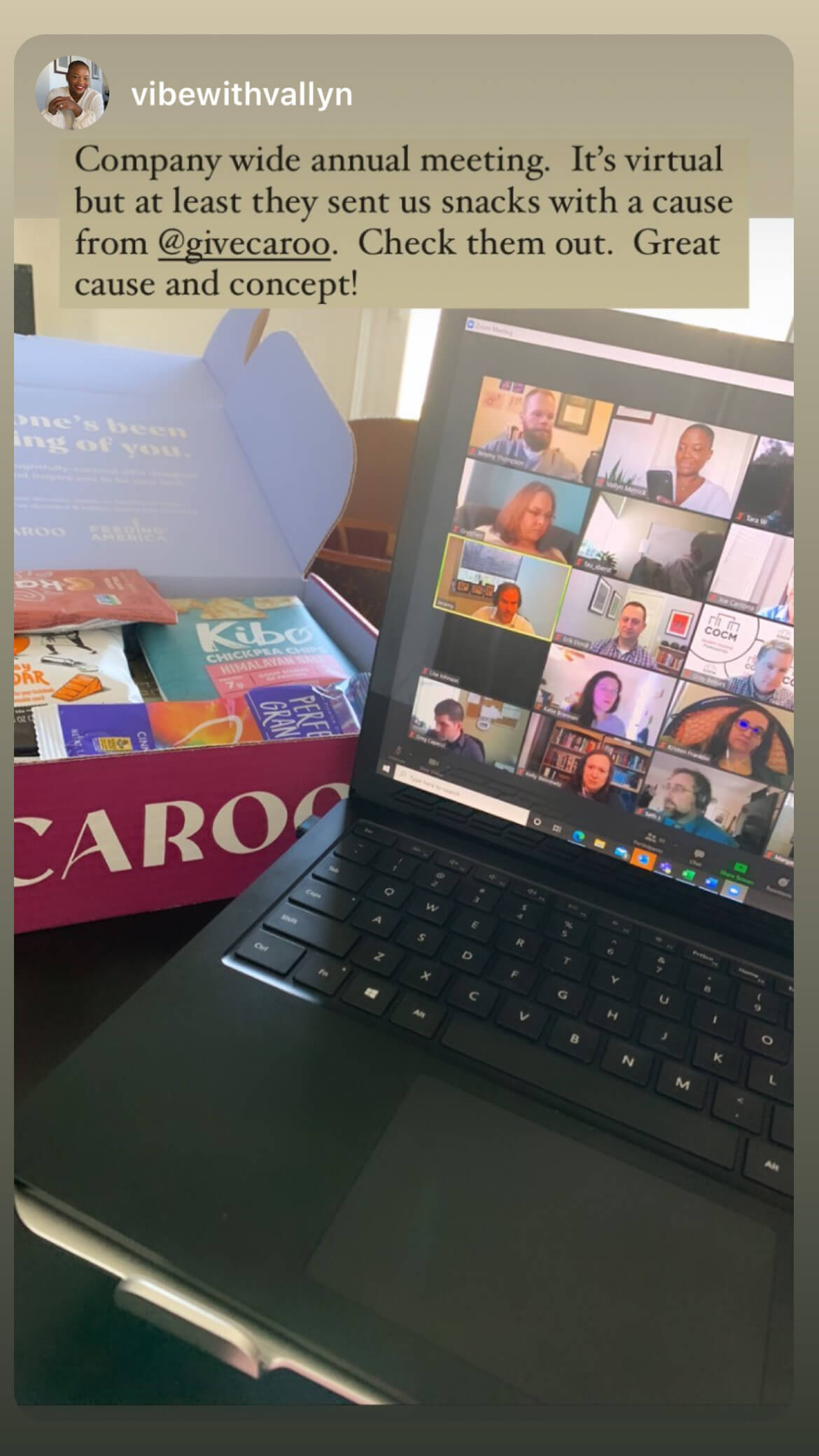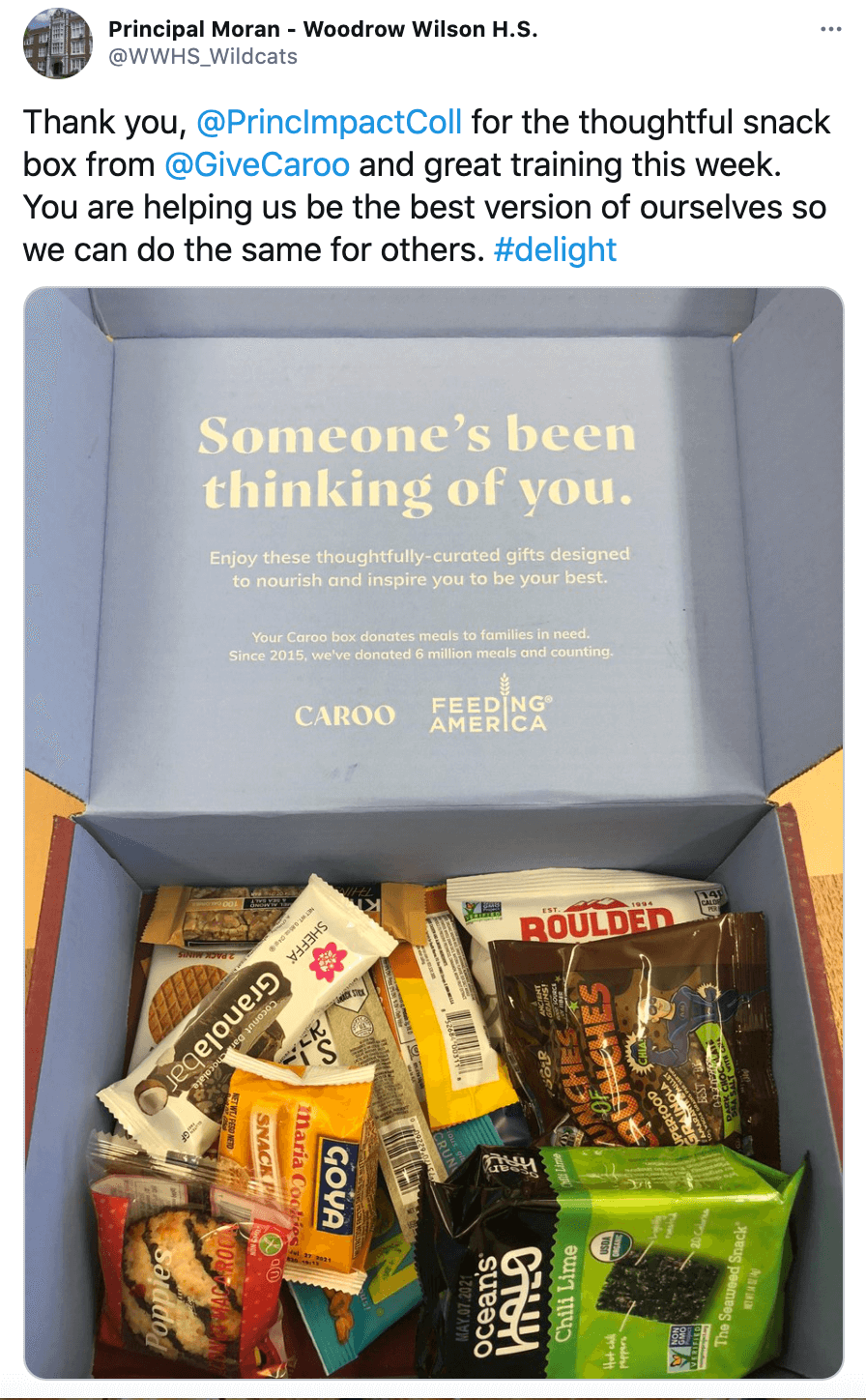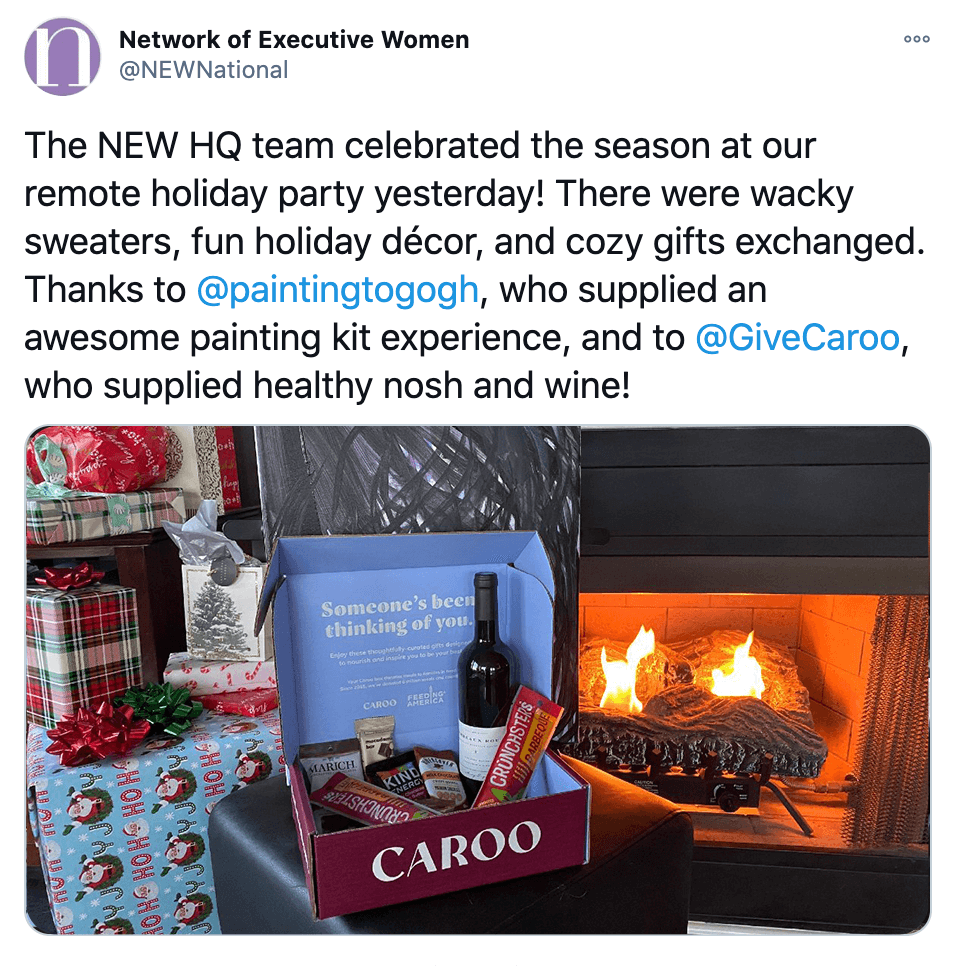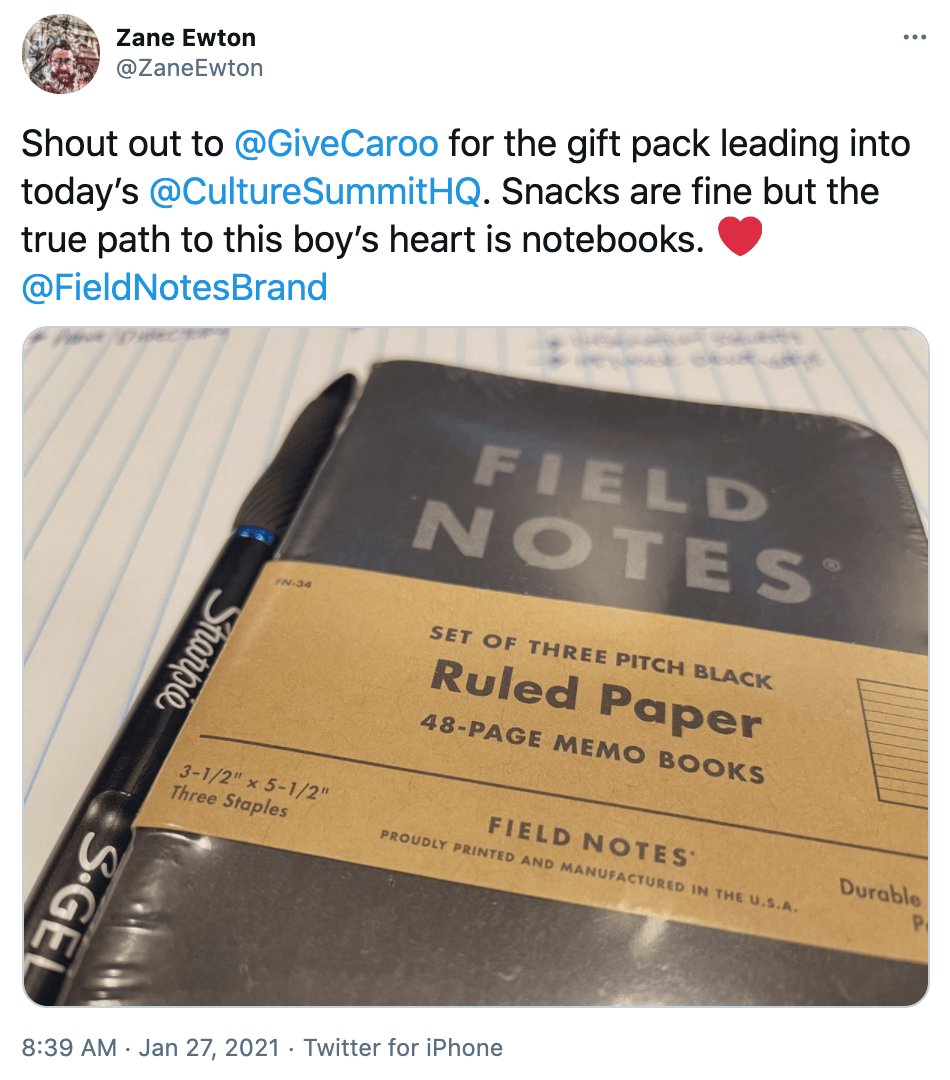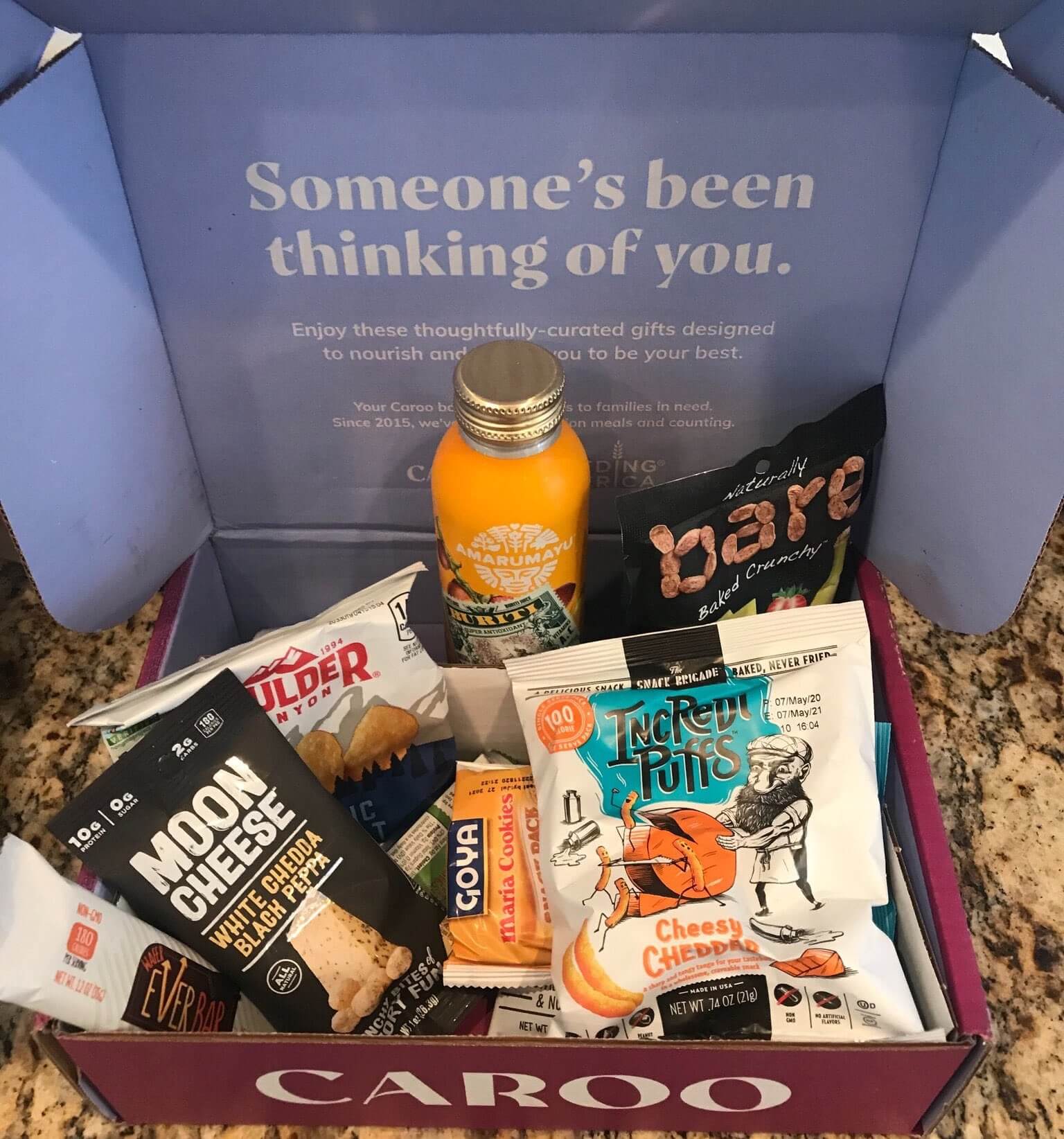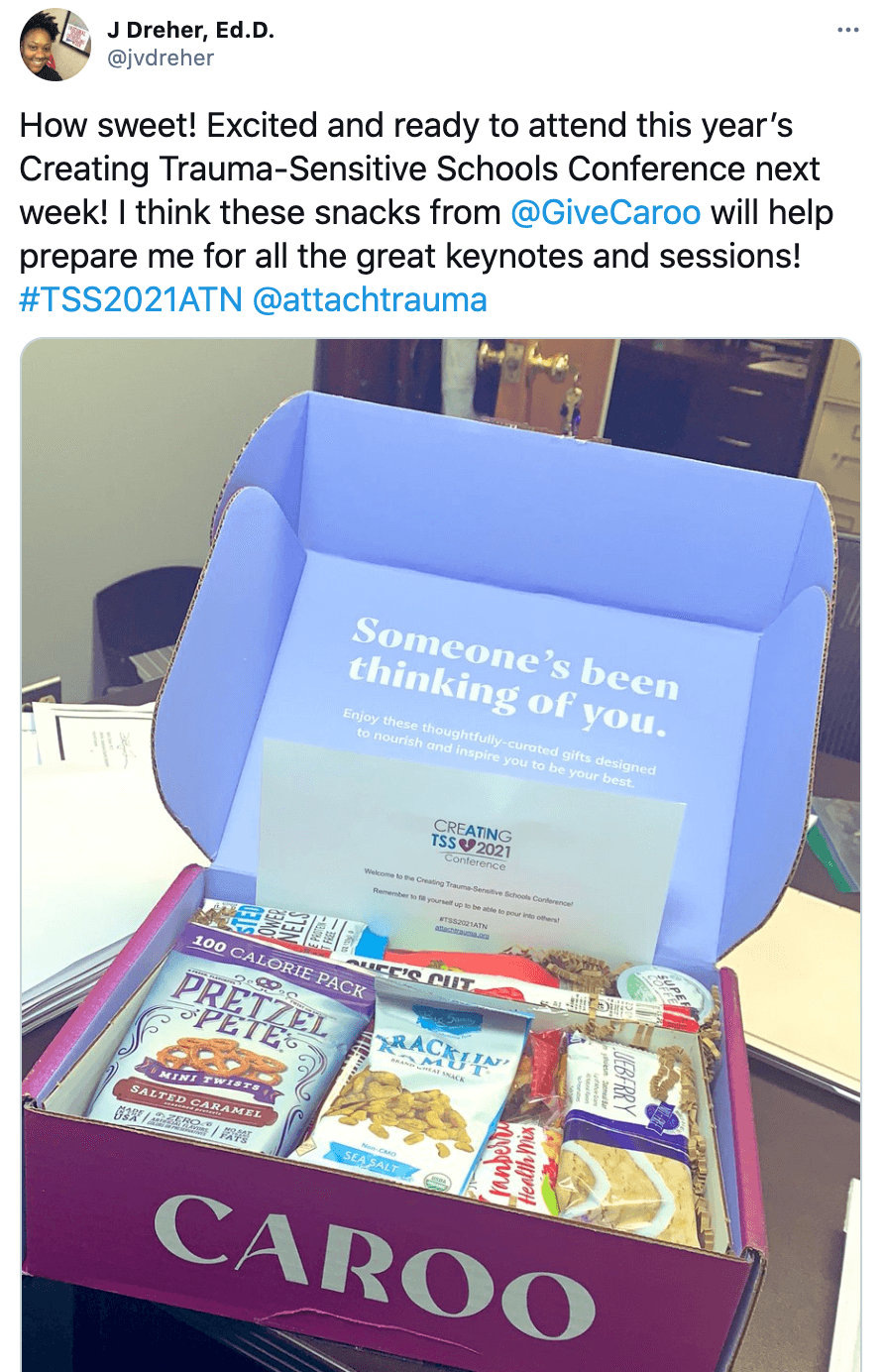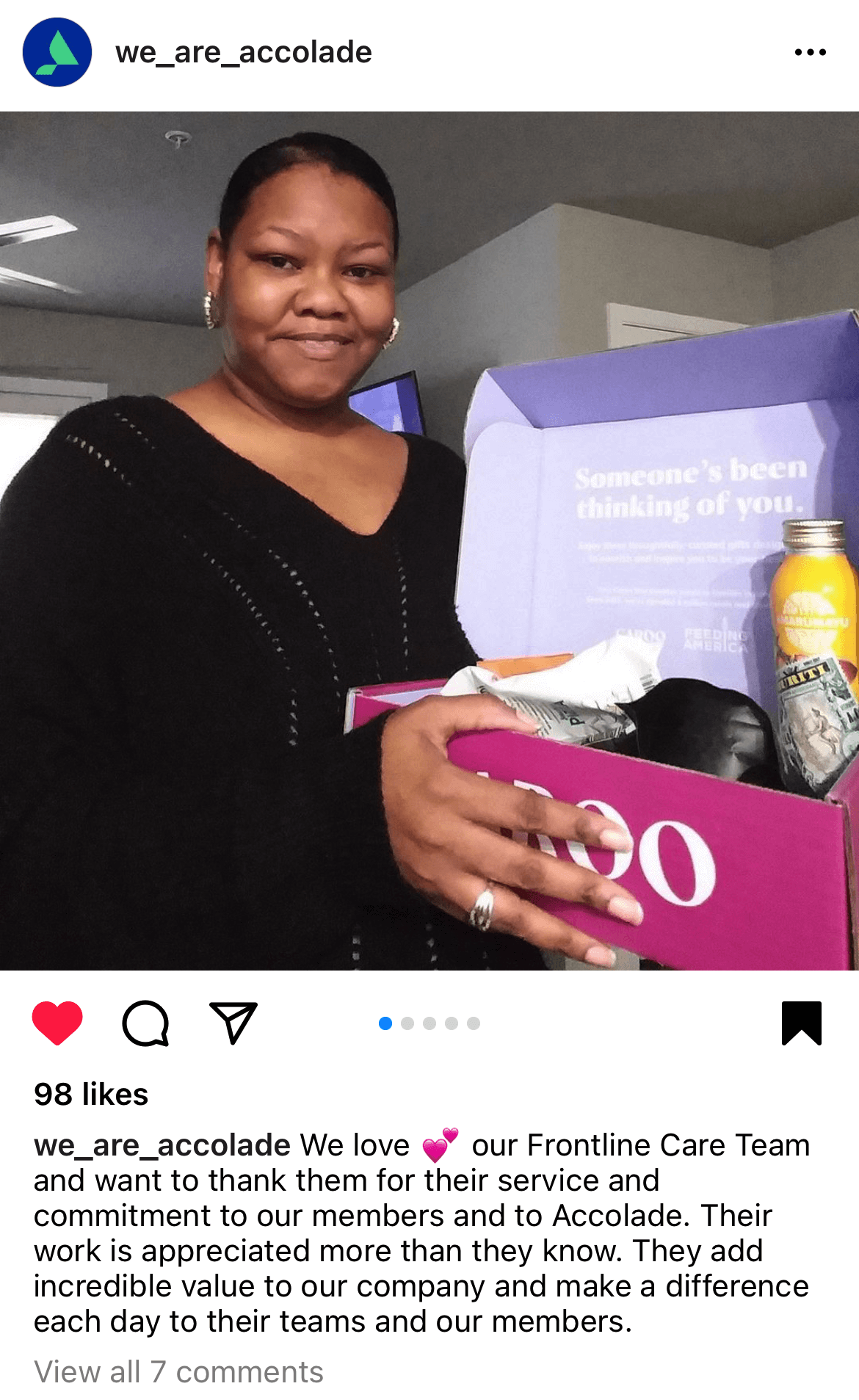 Join thousands of others who have used Caroo to make their employees happier, healthier and more engaged
"We were looking for a new way to connect with our partners, and Caroo's values were right in line with our own! We originally were looking for an idea for holiday gifts for our clients. We reached out to numerous companies, and were in the process of customizing a few tchotchkes, when a colleague of mine brought up Caroo to me. The fact that with every gift we give they feed a family thru feeding America was all I needed to hear – Decision narrowed down. Now comes the question- can they handle all of our specific needs and wishes. Not only did Phil at Caroo meet all of our requests, he made it so easy. We were able to see who signed up and when, and our clients absolutely loved the fact that we were giving back on their behalf – and plus who doesn't love snacks! It was an absolute pleasure working with Phil and the whole Caroo team and I would highly recommend them and the product as an amazing and simple no-brainer solution."

Lisa E.

Executive Assistant at Meredith Corporation
"I love working with Caroo and look forward to doing so again! Caroo is a wonderful company to work with!! Their customer service is impeccable! I've placed many, many orders with this team and have not been disappointed! They have so many great boxes to choose from that start with some delicious, healthier snacks, and range from happy hour kits, plants, water bottles, to alcohol and coffee! The best part is that with every box purchased, they donate a meal to Feeding America! What can be better than giving back while enjoying a healthy snack!"

Virgina D.

Manager
"Not only is the customer service punctual and super helpful, the prices are great. Since we couldn't host our annual retreat in person, due to Covid-19 concerns, we decided to send out goodies to all staff members. One of the items we chose was a Caroo box. It was wonderful. Furthermore, the snacks were fantastic. We chose the Black History Month box with snacks from Black, POC, or female-founded companies. Delicious selection and such a fun way to explore new foods, while supporting small businesses. I would definitely use Caroo again and recommend it."

Gabriela B.

Executive Assistant at National Democratic Restructuring Committee
"Awesome surprise from Caroo for Women's History Month. They sent a box of snacks from women-founded brands after my post on virtual onboarding. (The kids tore into it before I got pictures of the box. ) LOVE the messaging and a super fun way to welcome or recognize members of your team in this virtual world! Thank you for the WOW moment!"

Michelle D.

Chief HR Officer at Avion Consulting
"The three biggest reasons I recommend working with Brad and the Caroo team are the
simplicity of the process, the presentation of the boxes and the support.

I love working with Caroo and look forward to doing so again! Their customer service was on point from providing clear and up-front expectations of how the program works and the execution of the timeline they presented. Also, having their customer service team respond quickly to us for any tracking information we requested!
They made the process of shipping over 3,500 boxes to our currently remote associates so easy and
seamless! The actual product they provided was a HUGE hit with all of the employees here
at ADP. From the quality of the items to the presentation of the boxes. You could see that
the boxes were created with care and thoughtfulness. Their support and partnership with
Feeding America made this truly the right choice for a partner to align with our core values.
We are so thankful to have Caroo as a partner."

Deysi S.

Office Manager at ADP
"Love not only the concept but also the changing up based on social issues. Our team loves receiving Caroo and being surprised everytime!"

Franchesca R.

Manager at Cirrus Insight
"So helpful, patient, and quick to respond to my questions. Caroo really made it a seamless, easy process."

Amy C.

HR Leader at First Community Credit Union
"I've been a loyal customer to Caroo since their Snacknation days, and my team was delighted to receive at home a box of snacks similar to the ones I would provide in the office. Since re-branding as Caroo, I've noticed a higher diversity of snacks that my team was really excited about. Many of us LOVED the included juice. I cannot think of any service (at that price point) which will offer such a nice mix of savory, sweet, and beverage. I'm very excited to order the themed boxes which contain all snacks owned by women and BIPOC businesses. I would love it if you made it the standard (and set the standard for the industry as a whole)!"

Danielle L.

Office Manager at Genentech
"Have I got an idea for you!
It may come as something new!
If you have many or just a few!
You have to check out Caroo!

I was so happy with our Happy Hour Box from Caroo! I ordered 21 boxes to be shipped to all the meeting planners across the U.S. for our celebration happy hour following a high-level executive conference. The box was amazing! We did our happy hour virtually and it was a hit! The snacks were great and it had the best little stemless wine tumbler. I highly recommend using them if you have something to celebrate… check it out!"

Sue K.

Office Manager
"Many thanks to @SMUCox @SMUCoxExecEd for including me in a Caroo box for Jen Moss' keynote at your conference. What a thoughtful way to connect everyone for a virtual event!"

Katherine L.

Business Manager
"Thank you @wearepscu for the gift box of goodies for the #PSCUMemberForum! And I love that the Caroo box helps give back to families in need through Feeding America. Lots of greatness all around!"

Sara D.

Event Attendee
"Speaking at @SMU this week and this was sent to me as part of their event. Love this idea! A great way to tie community together in a tangible way within a virtual experience."

Jennifer M.

Event Speaker & Author
"Great way to show appreciation, Caroo makes it easy to personalize and deliver."

Wendy R.

Director at Frontwave Credit Union
"It's nice to be appreciated. I recently spoke at a conference and the organizers sent me a Caroo box as a thank you 🙂 Now all I have to do is arm wrestle my eight year old for the contents."

Ryann F.

Conference Attendee
"Thank you Erie Insurance Group and Caroo for sending my family and I this awesome care package! You can stock our pantry anytime!! Hey Mark E. Hadix, AIC, AINS, Anthony Gardner and Alex Mitchell, CISR my little lady is willing to share. Happy employees make for happy agents."

Stephen S.

Manager at Erie Insurance Group
"I am LOVING this box of Caroo treats, courtesy of Flex! Every box donates meals to families in need through Feeding America. Such a fun little happy - Thank you Flex!"

Amy B.

Manager at Balfour Beatty Communities
"WOW Kforce Inc and special shout out to our Recognition Team! This is my first time winning Employee of the Quarter since the pandemic and being in a remote work environment. With that being said the snack box from Caroo that is partnered with Feeding America is amazing! The box is filled with healthy snacks plus the biggest part of it all is that our win provides a meal to families through our Firm sponsored charity Feeding America! Great work Recognition and I'm happy my win can make an impact on the lives we serve."

Addie E.

Specialist at K Force Inc.
"Snacks are back! Now that we are finally starting to work in the office, we thought it was time to order snacks from Caroo again. The "Love Corn" snacks are an office favorite. Happy snacking!"

Olivia Z.

Specialist at Lunova Group
"The firm I work for ordered a large number of their entry level WFH Wellness packages for a company meeting. The snacks were diverse, creative and very well received by nearly 200 employees. Worked with Heather who was extremely responsive and helped take good care of us and assisted us in meeting a tight deadline. We will be using their service again and I recommend them. Make sure to give them enough lead time and be very upfront about any deadlines you may have and you'll be good to go!"

Russ M.

Manager
"We love how carefully thought out the welcome boxes from Caroo are! Our new team members get to customize their snack preferences to enjoy healthy options while they do exceptional performance marketing!! Another way that Directive loves our people!"

Chandi H.

HR Leader at Directive
"Have already recommended Caroo to a bunch of colleagues. Looking forward to placing another order in the near future! Caroo was super helpful in making sure that gifts were sent out to my team with ease. The boxes were filled with delicious and unique snacks that everyone could enjoy."

Ashley A

Executive Assistant at Microsoft
"They curated speciality work-from-home wellness boxes, that we were able to send to our team members as a surprise. The boxes were not only filled with a variety of some really great snacks, but each box purchase also gave back to the Feeding America organization.

Highly recommend as the boxes were very well-received and brought so much joy to myself and my colleagues."

Angela M.

Senior Manager Talent Acquisition at FabFitFun
"Every company should be sending this to their newly-remote employees."

Richard J.
"With food options in our neighborhood being closed, it means all the more to receive such quality snacks on the regular!"

Victoria G
"HUGE SUCCESS! Employees loved the snacks and it was such a great morale booster. Easy and inexpensive way to show them how much we care. Best money we've spent in awhile!"

Stephen A.

President at AHEAD
"Everyone received their snack boxes yesterday and THEY LOVED IT! They came so quickly too! I can't thank you enough, seriously it lifted their spirits."

Nicole P.