In a corporate world that's all about deadlines, deliverables, and bottom lines, it's sometimes hard for employees to feel appreciated. That's where corporate gift boxes come in!
Corporate gift boxes are well-curated gift boxes that show your employees that you care about them and appreciate their hard work.

This is an excellent opportunity to recognize employees and acknowledge their contribution to the company. As a result, it improves and promotes company culture, employee retention, and boosts productivity.
In addition, corporate gift boxes make awesome customer and client appreciation thank you gifts for acknowledging their loyalty and making a lasting impression.
A Gallup report on employee engagement shows that:
"Companies with a highly engaged workforce have 21% higher profitability. They also have 17% higher productivity than companies with a disengaged workforce."
We have gathered a list of the best pre-curated and customizable care packages to send employees and coworkers a thoughtful and unique experience they'll love.
Whether you're looking for a custom gift, high-quality business gifts, or holiday gifts, we have something for every occasion!
Without further ado, let's have a look at the 10 best corporate gift boxes!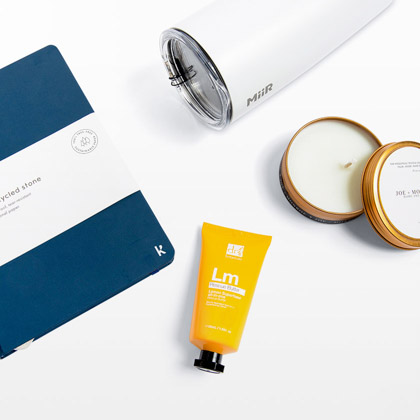 What's better than receiving a gift? A gift that you can choose yourself! The Premium Swaps Box is what employers need to make their employees feel recognized and seen for all their hard work. The Premium Swaps Box is the ultimate gifting solution for companies, as well as small businesses, that want to promote employee engagement and staff well-being.
What makes this corporate gift box unique? You can give your employees a unique and personalized gift experience that will make them feel special. This corporate gift basket for employees allows recipients to pick from a wide array of healthy, yummy snacks and exclusive gifts. Talk about corporate gifting made easy, simple, and a total hit!
Tip: Upload your giftees' information for seamless ordering.
Where to get it: Premium Swaps Box
The Amplify Box is a collection of carefully selected items that recognizes and celebrates employees while supporting BIPOC, LatinX, LGBTQ, AAPI-founded, and women-founded brands. This is an ideal present for companies looking to show appreciation for their staff while contributing to a larger cause.
What makes this corporate gift box unique? This employee care package includes medium roast coffee, a stylish notebook for taking notes during meetings or brainstorming sessions, a Joe + Monroe candle to help employees unwind after a long day. Not to mention a handful of nutritious snacks that will keep their bodies fueled and energized
Tip: With every gift box purchased, a meal is donated to families in need through Feeding America.
Where to get it: Amplify Box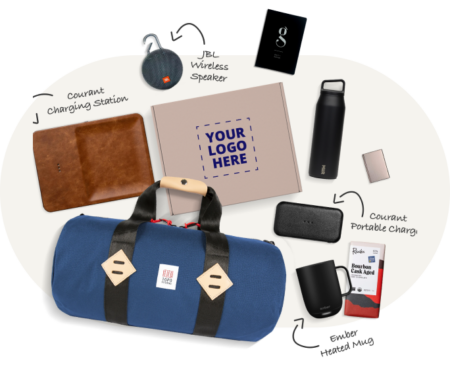 The VIP Treatment is the perfect gift for the perfect employee! The custom gift box is a step up from the usual employee appreciation gift. Employees will value the consideration behind this gift box and will be eager to make good use of all of its fantastic features and luxurious amenities. This deluxe gift box concept will inspire your staff and make them feel cherished and acknowledged.
What makes this corporate gift box unique? This corporate gift idea features a charging station that will keep their devices powered up, a wireless speaker that will let them listen to their favorite music while they work, an ember heated mug that will keep them cozy all day long, a notebook to help them jot down their notes and creative ideas, a duffel bag and more.
Tip: Include a personalized note to send employees warm wishes.
Where to get it: The VIP Treatment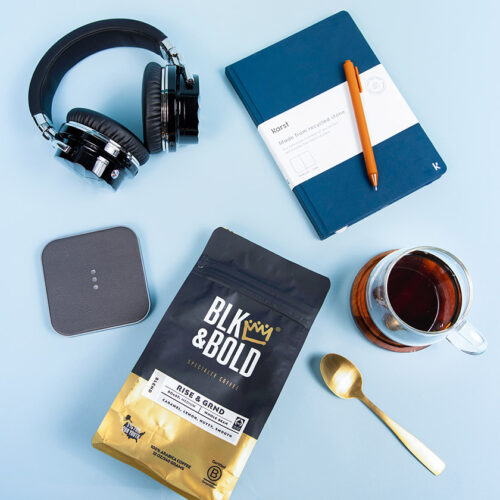 Thanks to the Rise N Grind Box, employees will be ready to get a jumpstart on their day and take on anything! This curated gift box comes complete in all kinds! It's perfect for showing your employees how important they are and for promoting employee engagement.
What makes this corporate gift box unique? Curated with employees' productivity in mind, this care package features Bold Coffee and headphones – perfect for the early bird who wants to start the day with a fresh cup of coffee and some sweet tunes. This employee appreciation care package also features a charging pad, a notebook, a personalized message, and everything needed to tackle the day head-on.
Tip: Promote your brand by adding your company's logo to the premium gifts and products featured in this gift box.
Where to get it: Rise N Grind Box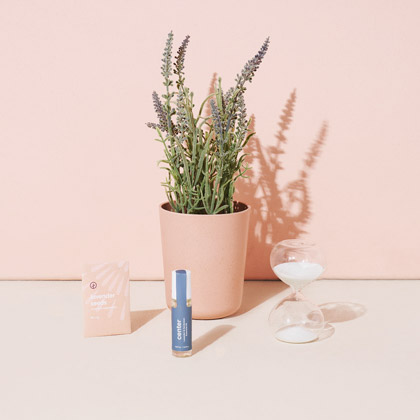 This garden-inspired gift box has everything your team needs to get their zen on. This employee wellness gift will help recipients relax, de-stress and find peace and tranquility.
What makes this corporate gift box unique? This gift set features a bamboo grow kit that comes with non-GMO lavender seeds and a passive hydroponic system, an hourglass sand timer that is perfect for timing meditations, and an essential oil roller for enjoying the aromas of lavender and cardamom. This can also be a wonderful gift box for clients.
Tip: You may personalize, send, and track the gift boxes effortlessly.
Where to get it: Mindful Meditation Box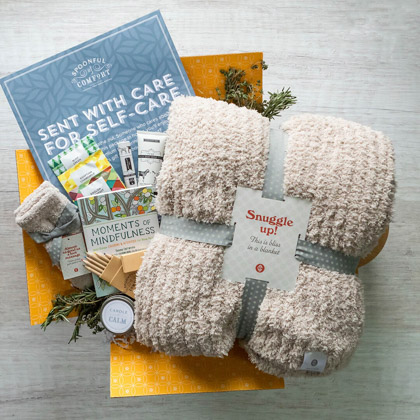 This care package is an awesome way to help your colleagues and clients zen out into a world of calm. The Peace & Pampering Box is an excellent work from home care package that will make WFH easier and less stressful.
What makes this corporate gift box unique? Your employees, colleagues, or coworkers will curl up on the couch with their new favorite blanket and soft socks and enjoy a hot cup of tea while they relax with the soothing coloring book. In addition, the sweet smell of lavender will transport them to a stress-free state of mind. This corporate gift box also features Goats milk hand cream and lip balm.
Tip: This gifting service provides versatile solutions to help employers keep their team happy, whether they're remote or in the office.
Where to get it: Peace & Pampering Box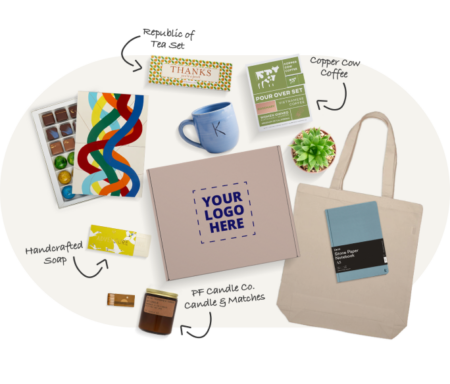 Step up your appreciation game with the Gifts of Gratitude custom corporate gift! Thoroughly researched and thoughtfully curated, this set features aromatherapy, plants, and tea: a triple concoction of goodness to show your employees just how much they're valued.
What makes this corporate gift box unique? This care package comes with a candle and matches for a fragrant ambiance, a succulent to keep their desk happy, a tea set for taking mini-breaks, handcrafted soap for staying refreshed, and a stone paper journal for jotting down ideas. Plus, there are other productivity-boosting surprises to help your team stay focused.
Tip: Take a 60-seconds quiz about your team and get a specific and personalized recommendation based on your team's needs.
Where to get it: Gifts of Gratitude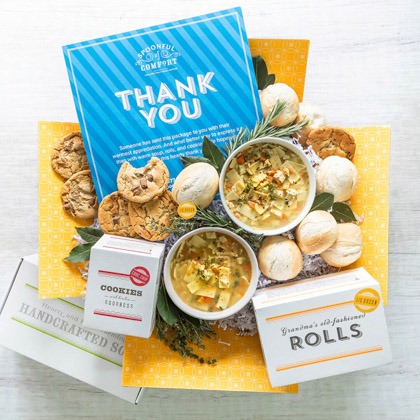 The Thank You Box is a delicious and heartfelt employee care package and gift basket overflowing with homemade goodness that will leave a great taste in your employees' mouths and an even better feeling in their hearts.
What makes this corporate gift box unique? This employee appreciation unique gift box includes some truly tasty treats. The delicious soup and hearty rolls are sure to hit the spot, while the sweet cookies will satisfy any sweet tooth. Plus, it comes with a serving ladle so they can dish out some love right away!
Tip: You can send this gift box to multiple addresses.
Where to get it: Thank You Box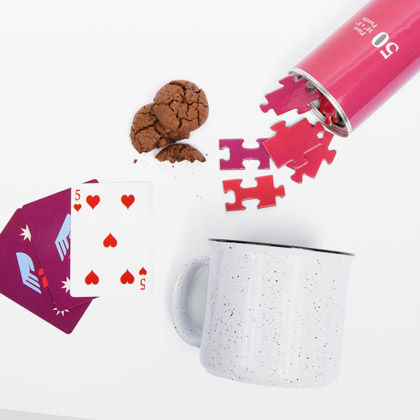 The Unplugged Box is a box of goodies that's ideal for days when employees or coworkers need to take care of their mental and physical well-being. This curated gift set is the perfect way to connect with friends and family to unwind and recharge.
What makes this corporate gift box unique? For those who want to de-stress, this thoughtful gift offers a fresh take on spending time at home. The handpicked box includes an enamel cup and handmade candle, as well as 8 mouthwatering and nutritious snacks that will surely delight recipients' taste buds.
Tip: Vegetarian, Gluten-friendly and Nut-free versions of the snacks are available for those with dietary preferences or restrictions.
Where to get it: Unplugged Box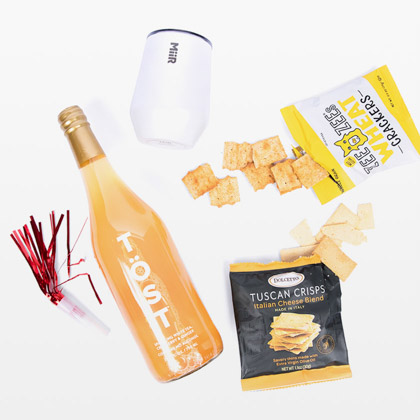 The Work Anniversary Box makes it easy to recognize your staff for their hard work and dedication. This box is guaranteed to make any recipient's day! A celebratory present for when an employee reaches a milestone in his or her career.
What makes this corporate gift box unique? This memorable gift includes 8 yummy healthy snacks, a TOST non-alcoholic beverage, an insulated tumbler, and fun party favors that will make any celebration even more significant.
Tip: You can replace the non-alcoholic wine with an alcoholic one.
Where to get it: Work Anniversary Box
People Also Ask These Questions About Corporate Gift Boxes
Q: What is a corporate gift box?
A: A corporate gift box is a package that is specifically designed and marketed for businesses to give as gifts to their clients or employees. They often include a variety of items such as food, drink, tumblers, office supplies, or other swag. Corporate gift boxes can be a great way to show appreciation to clients or employees.
Q: Can you order corporate gift boxes in bulk?
A: Yes, you can order corporate gift boxes in bulk. Many companies offer corporate gift box services that allow you to choose from a variety of gift box themes and designs. You can also select the type of gifts you would like to include in the box, as well as the packaging and delivery options.
Q: What do you put in a client gift box?
A: A client gift box can include a variety of items, depending on your budget and the relationship with the client. If you have a small budget, you can put in some branded pens or notepads. If you have a bigger budget, you could include a nice bottle of wine or some gourmet chocolate. Whatever you choose, make sure it is something that will be appreciated and used by the client.
Q: What goes into a corporate gift box for employees?
A: A corporate gift box for employees can include a variety of items, such as company-branded merchandise, gift cards, and other items that would be appreciated by the recipient. The key is to choose items that will be useful and meaningful to the employee, and that will show your appreciation for their work.