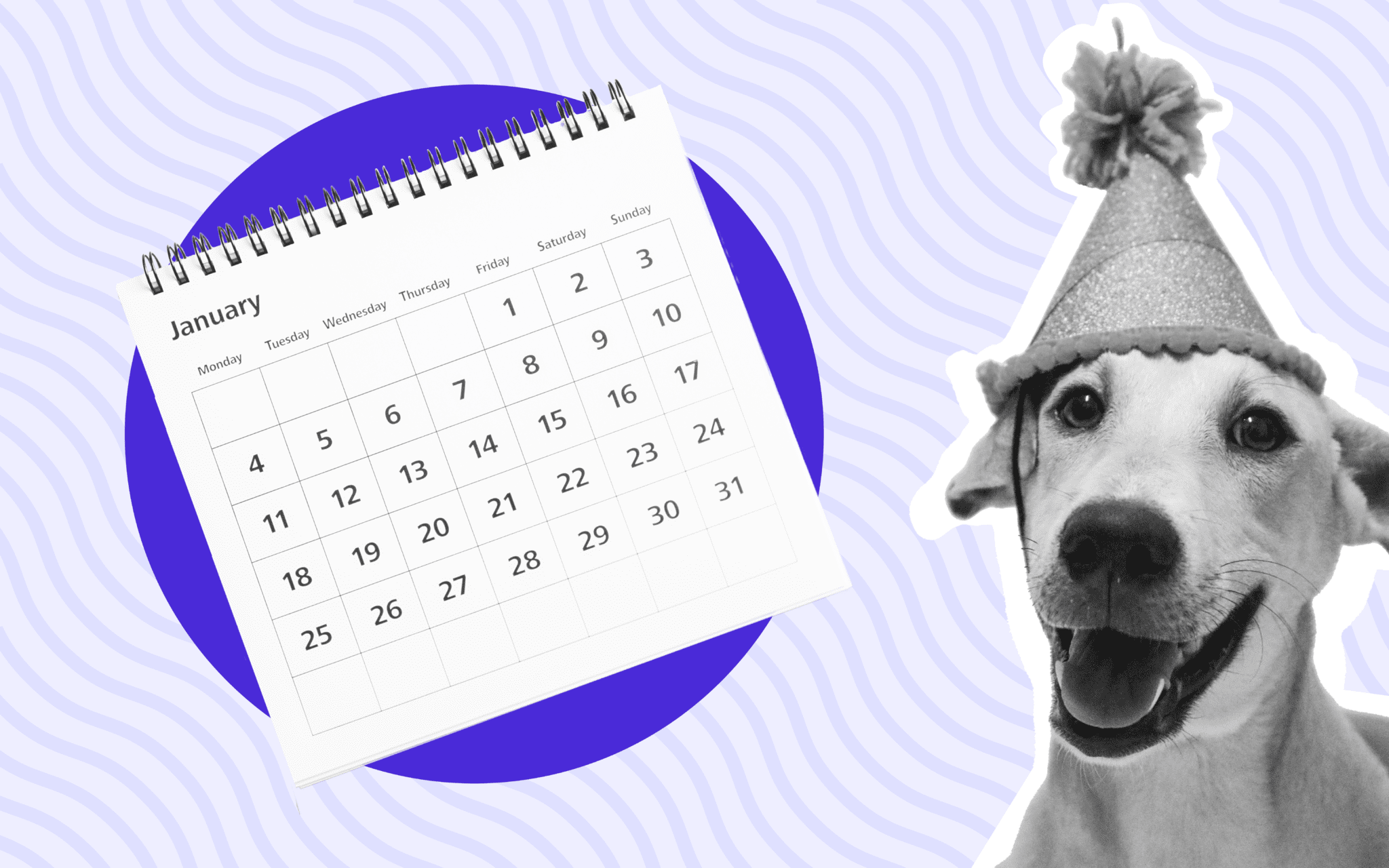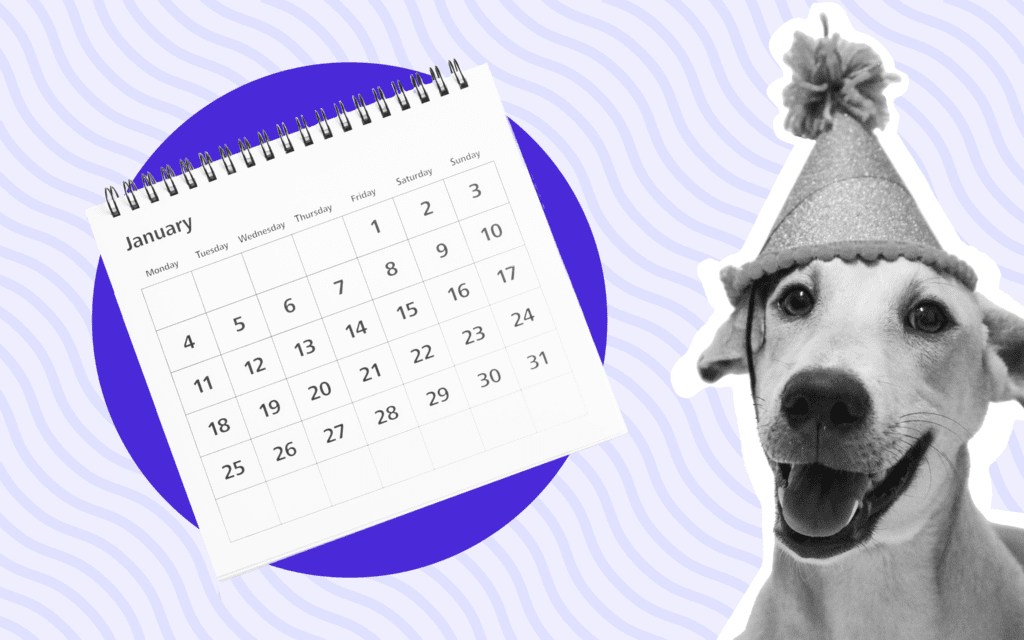 Take a moment to reflect on some highlights in your personal and professional life.
Chances are an important milestone was the first memory to come to mind. Whether it was an extra special birthday or a major accomplishment achieved, milestones are particularly memorable because they mark significant moments in our lives.
Celebrating these key milestones shouldn't be limited to your personal life though.
In fact, celebrating important employee milestones in the workplace is a fantastic way to bring your employees together and build a stronger sense of community.
The best way to ensure you're celebrating these milestones is to implement an employee milestone program. With the recent rise in culture as a service, we've seen a growing emphasis on how employees experience the tangible and intangible aspects of company culture. Employee milestone programs build on that concept by bringing company culture to life in a meaningful & personalized way.
In Kazoo's recent 2022 workplace report, survey respondents shared their top key initiatives for 2022: Boosting employee morale (61%), Rebuilding company culture and connection (57%), and Improving quit/retention rate (53%). Effective employee milestone programs positively impact each of these three initiatives.
Sounds great– right?
But what exactly is an employee milestone program and where do you even start when trying to build one?
Keep reading to find out the answers to these questions and more!
What is an employee milestone program?
An employee milestone program is an organized company initiative that celebrates key employee accomplishments through recognition, gifts, and other monetary and non-monetary incentives or perks. Some common employee milestones to celebrate include work anniversaries, birthdays, promotions, and successful project rollouts– to name a few.
A successful employee milestone program goes beyond patting someone on the back for a job well done or having a piece of cake in the break room for someone's birthday. It is a well-thought-out, systematic platform utilized to effectively recognize your employees' key milestones through various methods of rewards such as public praise or an employee milestone gift.
Implementing a robust milestone program for your employees shows that you're taking the time to appreciate their accomplishments & that your company is truly embracing the era of employee care.
Why should you create an employee milestone program?
Successful employee milestone programs have a positive impact on many vital aspects of a business including employee productivity, performance and engagement. Employees who feel appreciated and respected in the workplace are much more likely to be highly engaged. Companies that thrive in creating a strong workplace culture embrace just how important employee engagement is to its success.
Not only do employee milestone programs increase engagement and employee satisfaction, but they also help lower employee turnover and can help attract & retain top talent. Most importantly, employee milestone programs boost overall employee happiness levels resulting in a positive and productive workplace environment.
How do you set up an employee milestone program?
1. Define your employee milestone program objectives.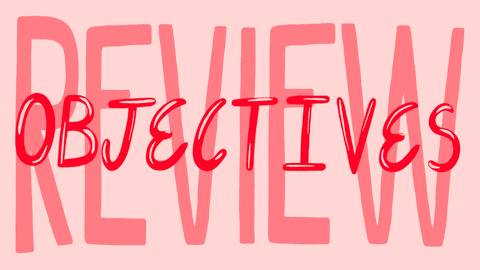 With so many employee milestone ideas in the marketplace, it can be a little overwhelming to build out the perfect milestone program for your business. Start by taking the time to define what your program objectives are.
At its core, what are the most important goals for this program? Whether your main goal is to increase engagement levels, foster a culture of recognition, or encourage professional growth, it's vital to identify the program's top objectives as your first step. Keep in mind that these goals should align with your broader company values and objectives as well.
2. Decide what milestones you want to recognize.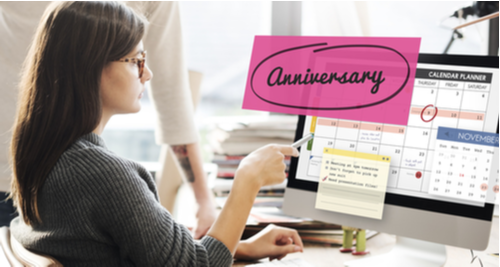 Once you have your core objectives identified, it's time to start thinking about what milestones you want to include for recognition in your program. Below is a list of some commonly celebrated employee milestones:
Onboarding new hires
Years of service
Promotions
Retirement
Completing a project
Earning a certification
Reaching a sales goal
Achieving overall company goals
Personal life milestones such as an engagement, marriage, or the birth of a child
With so many milestone options, it can be a bit daunting to decide which is the right fit for your particular employee milestone program. Be sure to prioritize the milestones that best compliment your company's core values & workplace culture.
3. Set up a system for tracking team members' milestones. 
Now that you've selected the milestones you'll be including in your program, you must identify a method by which to track those milestones. Depending on the program complexity and number of employees, the tracking method could be as simple as maintaining an employee milestone spreadsheet. If this is too manual of a method for your business, consider using an online tool such as recognition software instead.
Here at Caroo, we offer an awesome Milestone service that makes employee milestone tracking and gifting a breeze! With just a few clicks, you can set up a seamless employee milestone gifting experience where your employees receive customized and thoughtful birthday or work anniversary gifts delivered directly to their door.
4. Decide on the type of recognition. 
The next step in setting up your employee milestone program is deciding on what types of recognition you'll use to celebrate the employee milestones you're tracking.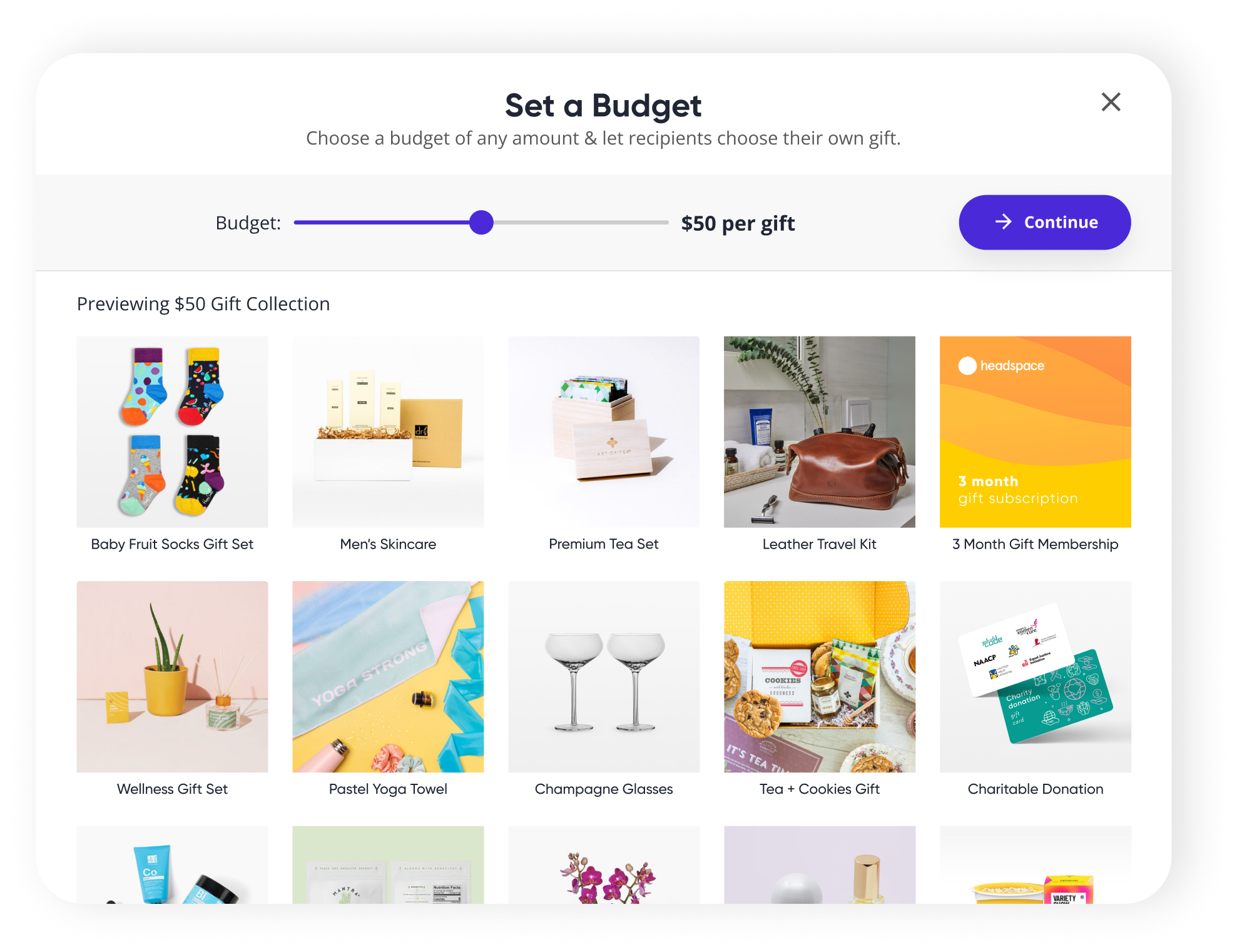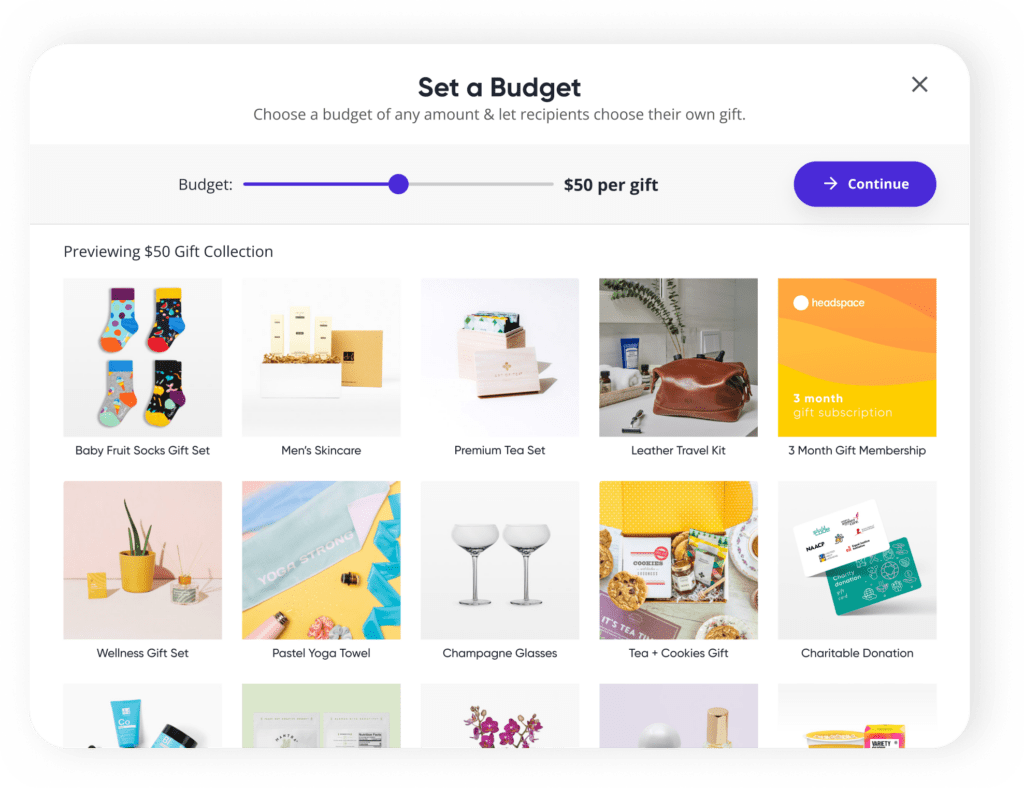 Most forms of employee recognition fall into two major categories: Praise (public or private) and Rewards (monetary or non-monetary).
Check out the below list for some common examples of effective praise & reward recognition methods:
▶︎ Praise
Private recognition, is typically between a manager and a direct report.
Public recognition includes both top-down and peer recognition.
Structured praise is shared in an organized and deliberate format.
Unstructured praise or positive feedback is given spontaneously and continuously.
▶︎ Rewards
Physical gifts such as employee milestone gifts or service awards.
Monetary rewards or incentives like a sales milestone bonus or gift card.
Experiential rewards such as dinners, concert tickets, or weekend getaways.
The most effective employee milestone programs offer a combination of praise & reward recognition methods, so be sure to include a variety of options when building out your employee milestone program.
5. Factor in enough time to plan. 
Now that you know what milestones you want to recognize and how you want to recognize them, it's important to think ahead so that you have enough time to plan the corresponding milestone celebration. Whether you're sending out a company-wide shout-out or sending a thoughtful years of service gift, be sure you're planning and allowing ample time for your reward or praise recognition method.
This is particularly important when sending out birthday or employee anniversary milestone gifts because you don't want them receiving their gift weeks after their milestone date.
6. Choose the milestone gifts. 
Here comes the fun part! It's time to select the perfect milestone gifts to reward employees. With so many gifting options in the market, choosing the right fit for your employees can definitely be a little intimidating.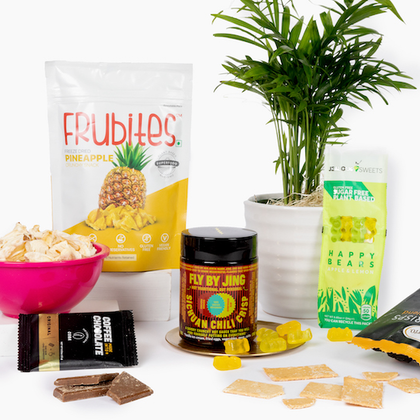 The best place to begin when selecting milestone gifts is to figure out the range of your gifting budget.
Identify how much per quarter your business can spend on employee milestone gifting and then start shopping around for gifting options that fit within your budget. Some awesome milestone gifting options include employee care packages, birthday gift boxes, and years of service gift baskets.
7. Explore partnering with a platform service to help you.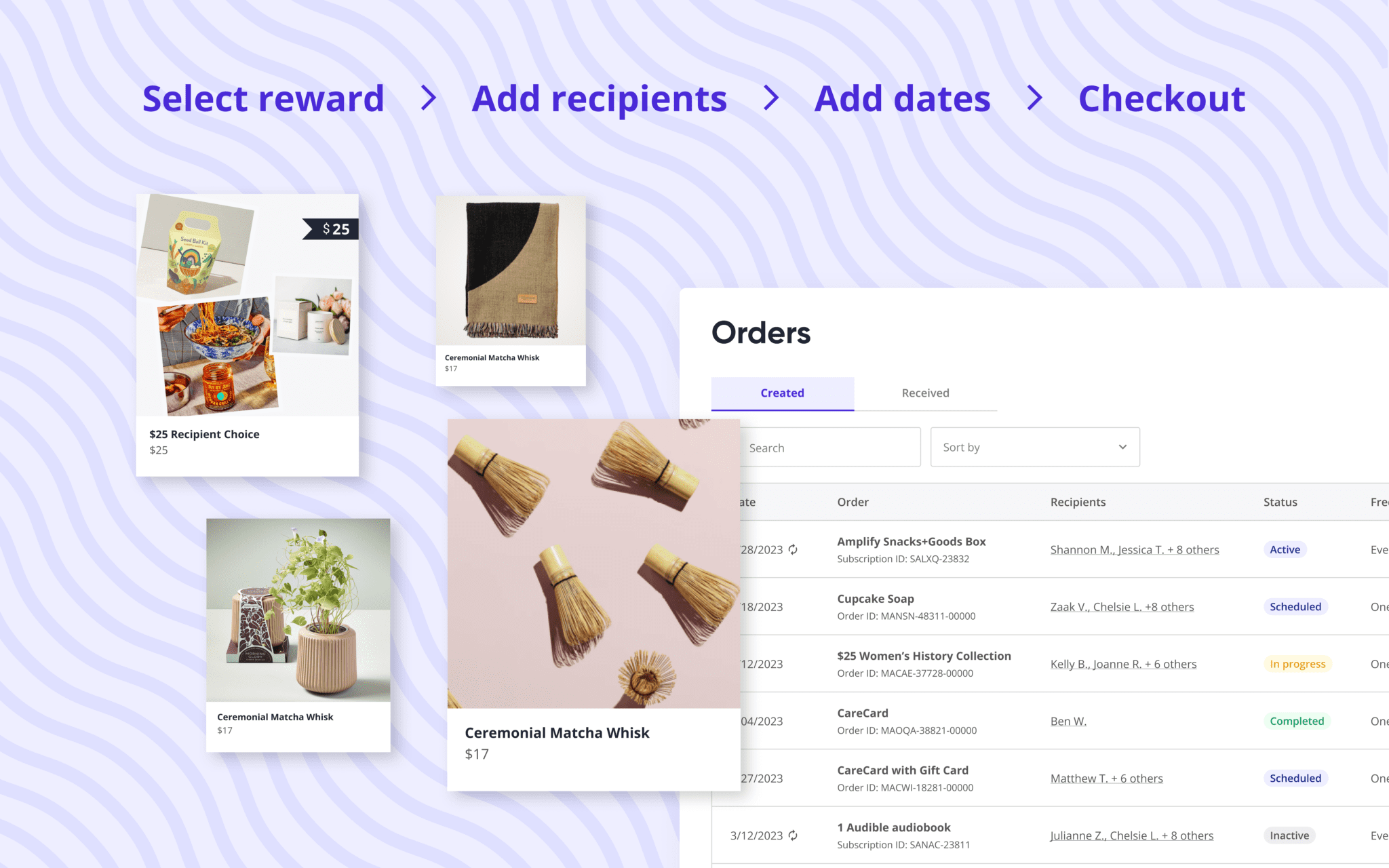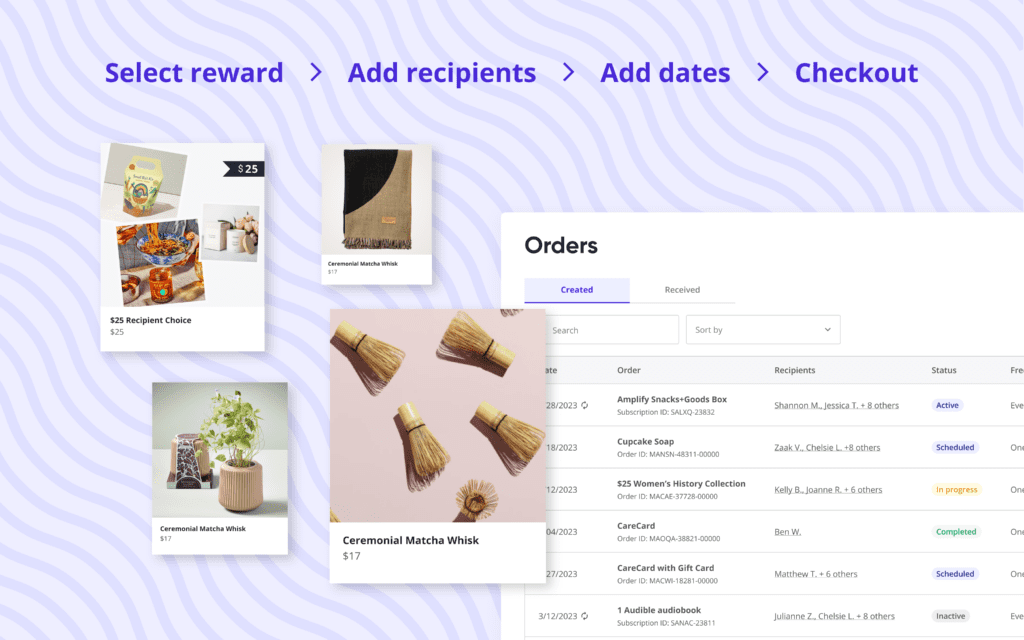 Whether you're a small or large company, you should explore tapping into the expertise of an established employee milestone service or rewards program to help build out your milestone program.
Before you begin reaching out to potential partners, be sure you've completed Steps #1-6 outlined above and have a solid grasp on what platform features are a high priority for your company. Partnering with an external service can save your team a lot of headaches and offer a streamlined and automated employee milestone experience.
Some existing milestone platforms can even integrate with your existing Human Resource platforms such as Workday, so be sure to ask about API integrations.
Tip: Caroo offers a turnkey employee milestone program and can help you launch your initiative in no time! Check it out here 👈
8. Establish channels for recognition and notifications.
You're in the home stretch of creating your employee milestone program! Next up is establishing channels for recognition and notifications to ensure your updates are being properly communicated to your team. Whether you're utilizing a slack channel, company newsletters, or an employee recognition platform, it's important that you have an effective communication method in place to support your employee milestone program.
Luckily with the rise in cloud culture, there are quite a few ways to keep the line of communication open in remote or hybrid work environments. Use these communication channels to notify employees of important events & milestone celebrations or rewards.
9. Promote your employee milestone program.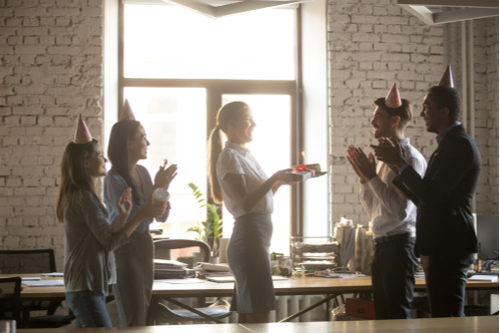 Get your employees excited about the launch of your milestone program! Leading up to the official launch, keep your employees in the loop as to key rollout dates, action steps needed, and what milestones your program will be recognizing.
The more information your employees are provided, the more engaged and excited they will be. An employee milestone program needs both leadership and employee buy-in to be successful.
Of course, promoting your initial launch is vital, but it's also important to continue promoting your milestone program periodically throughout its course so that it's top of mind and being actively used within your company.
10.  Be consistent. 
Now that your employee milestone program is officially launched, you want to ensure that your program is consistent. This isn't a one-and-done scenario, but rather a continual effort to recognize and reward your employees' achievements and contributions.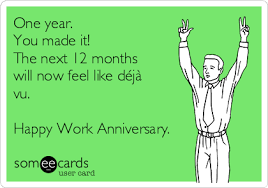 Frequent recognition helps build a strong culture of appreciation and keeps employees engaged, productive, and striving to do good work. Consistency is key when it comes to employee milestone programs.
11. Gather feedback.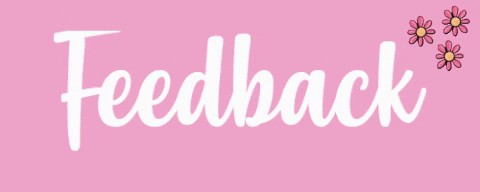 Kudos to you! You've not only launched a consistent employee milestone program, but you're already thinking ahead on how you can gather feedback and improve. At its core, employee milestone programs are hyper-focused on the employee experience.
What better way to find out if your milestone program is working than to ask your employees directly? Consider sending periodic surveys or offering Q&A office hours to gather feedback from employees to gain insight as to how your current program is doing along with ways you can expand or improve your employee milestone program in the future.
12. Measure the program's success. 
It's been a few months now and your milestone program seems to be having a positive impact on your employees, but how can you be sure? Measurement. Measure the impact your program has had against key functional metrics like employee engagement, employee performance, retention, and productivity.
Compare the data before and after your milestone program launch to quantify the effect it has on your company and its employees. Showing the positive impact your milestone program has had on the company's bottom line is a great way to maintain support from senior leadership as well.
Employee Milestone Gift Ideas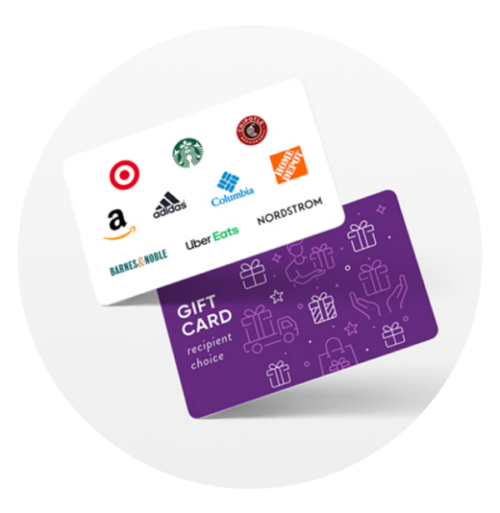 A digital gift card is the perfect way to say thank you and make sure your employees or colleagues know how much they matter. It's an interesting way to recognize their efforts and help them celebrate their milestone moment. With so many options available, they'll be able to find something they love – no matter how big or small the occasion is!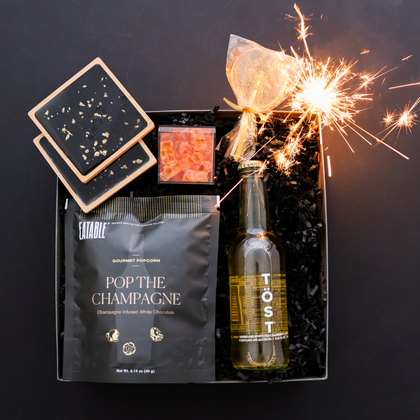 This exciting milestone gift comes packed with wooden coasters, popcorn, a lollipop, sparkling white tea and more so recipients can celebrate in style. The Congratulations Gift Box is a wonderful way to express your gratitude. Whether it's for a promotion or anniversary, this gift will be bring joy and excitement to any recipient.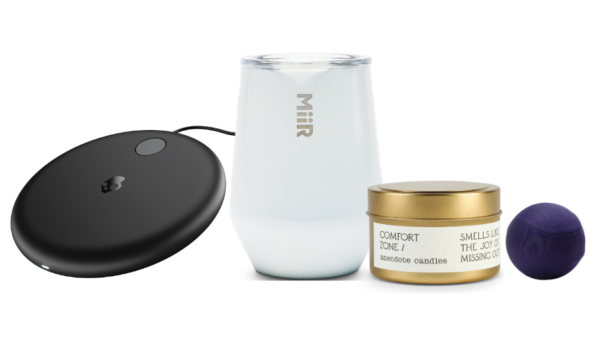 This unique package includes a wireless charger, a tin candle, a stress ball, and a tumbler — everything your employee needs to decompress and recharge. This thoughtful gift allows them to take a break after hitting those important milestones. With top-of-the-line products that are sure to boost morale, Recharge + Relax is  a great employee milestone gift idea for employees and colleagues.
People Also Ask These Questions About How To Set Up An Employee Milestone Program?
Q: What makes a good employee milestone program?
A: A good employee milestone program makes employees feel appreciated, seen, and valued in the workplace. It recognizes significant employee milestones such as birthdays, anniversaries, or project completions, through rewards and/or praise in a consistent and effective manner.
Q: How much should an employee milestone program cost?
A:  On average, an employee milestone program should cost anywhere from 1-2% of payroll with some companies spending as much as 10%. Many factors sit behind this percentage including the size of your company, the milestones included in your program, and the corresponding rewards.
Q: How do I know that my employee milestone program is successful?
A: You know that your employee milestone program is successful based on employee adoption and feedback. If your employees are embracing your milestone platform, that's a fairly good indicator that your program is doing well. Additionally, you should measure any changes in key business factors such as employee engagement, productivity, retention, and profits.