"Thank you." Two small words that have the potential to make a powerful impact on someone and yet are used far too sparingly in businesses today.
While we know that employee appreciation is important, particularly during this era of employee care, it can be far too easy for leaders to neglect thanking their employees in a regular cadence and in meaningful ways.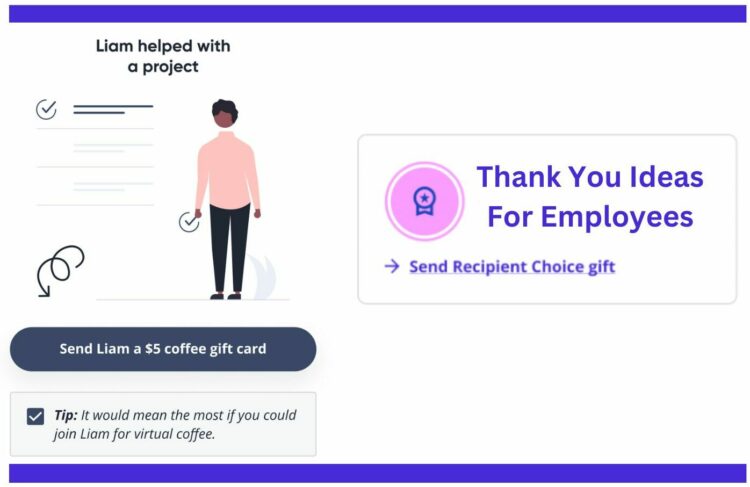 According to a recent Gallup study, employees who only receive recognition a few times a year from leadership are 5x more likely to be actively disengaged than employees receiving recognition regularly.
So if thanking your employees isn't part of your employee engagement action plan, it absolutely should be.
"None is more impoverished than the one who has no gratitude. Gratitude is a currency that we can mint for ourselves, and spend without fear of bankruptcy." — Fred De Witt Van Amburgh
If you're not expressing your gratitude for your employees and their hard work, chances are they're feeling impoverished when it comes to feeling appreciated.
Don't limit the number of thank yous you're giving. Gratitude should be given freely and sincerely.
Any good employee recognition guide will stress the importance of thanking your employees and celebrating their accomplishments. That said, it can sometimes be challenging knowing how to thank your employees and finding the right thank you ideas for your staff members.
Keep reading to learn more about the importance of thanking your employees and some awesome thank you ideas you can start implementing today!
How to Thank Your Employees
► Be sincere: When thanking your employees, it's so important to convey sincerity in what you're saying and how you're saying it. A casual or insincere thank you can easily backfire and cause friction rather than feelings of appreciation.
► Be specific: When crafting your thank you messages, be sure to mention specifically why you're thanking them. Whether it's for completing a project or hitting a sales goal, being specific with your praise provides clear feedback to your employees on what they're doing well and the positive impact they have on your business.
► Be generous: Don't limit yourself to providing thanks to your employees sparingly. You should be generous with your thank you messages and provide them frequently to recognize a job well done. Don't worry, you won't run out of thank yous!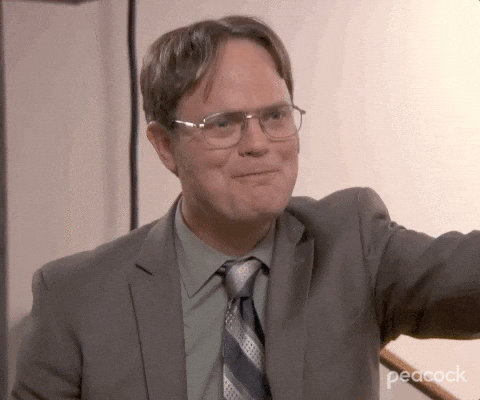 Why is it important to thank employees for their hard work?
When you follow employee recognition best practices, there are an abundant amount of employee recognition benefits that stem from thanking your employees.
In order to reap these benefits, it's so important to effectively and frequently thank your employees for their dedication and hard work. Let's explore a few of these many benefits!
✅ Boosts Employee Engagement by Fostering a Culture of Recognition
One of the greatest benefits to thanking your employees is the direct & positive impact it has on improving employee engagement, which is so important.
When employees feel appreciated for their contributions, they're much more likely to be genuinely engaged with the work they're doing. Thanking your employees also helps foster a company culture of recognition in the workplace, creating a positive work environment that celebrates employee wins.
✅ Incentivizes Your Employees & Improves their Quality of Work
Another reason thanking your employees is important is that your thanks function as an incentivizer for your employees to excel in their roles.
Because your employees are deservingly thanked for their achievements, they're also incentivized to produce high quality work and contribute innovative ideas that will help the company's bottom line.
✅ Bolsters Job Satisfaction & Retention Levels
Last, but certainly not least, staff appreciation bolsters overall employee job satisfaction and well-being which has a direct correlation with your employee retention levels.
An employee who feels appreciated and valued is much more likely to be satisfied with their job and have a desire to stay & build their career at your company. Giving thanks is a simple, yet extremely effective way to increase employee satisfaction and reduce turnover.
10 Thank You Ideas For Employees
1) Let them choose their own gift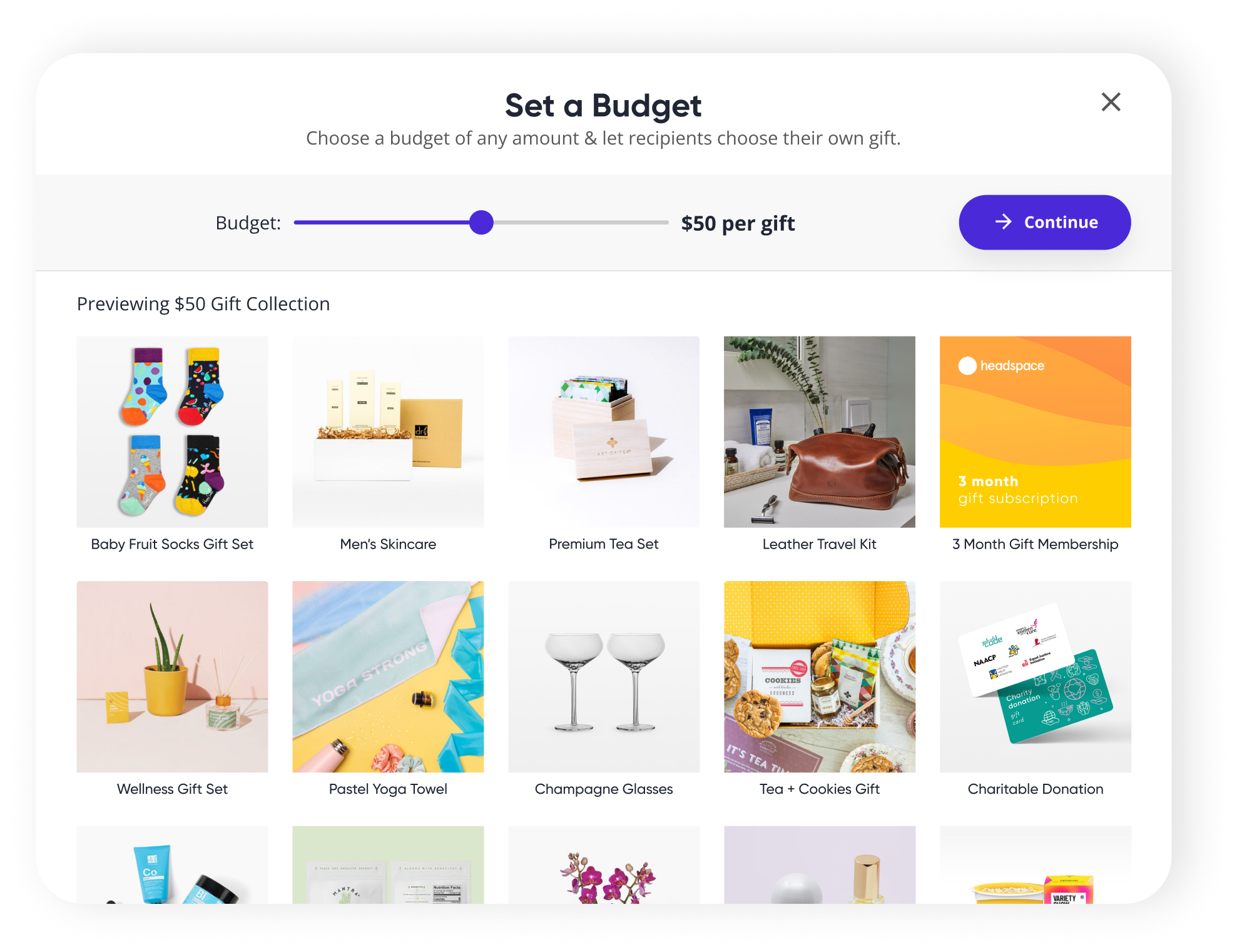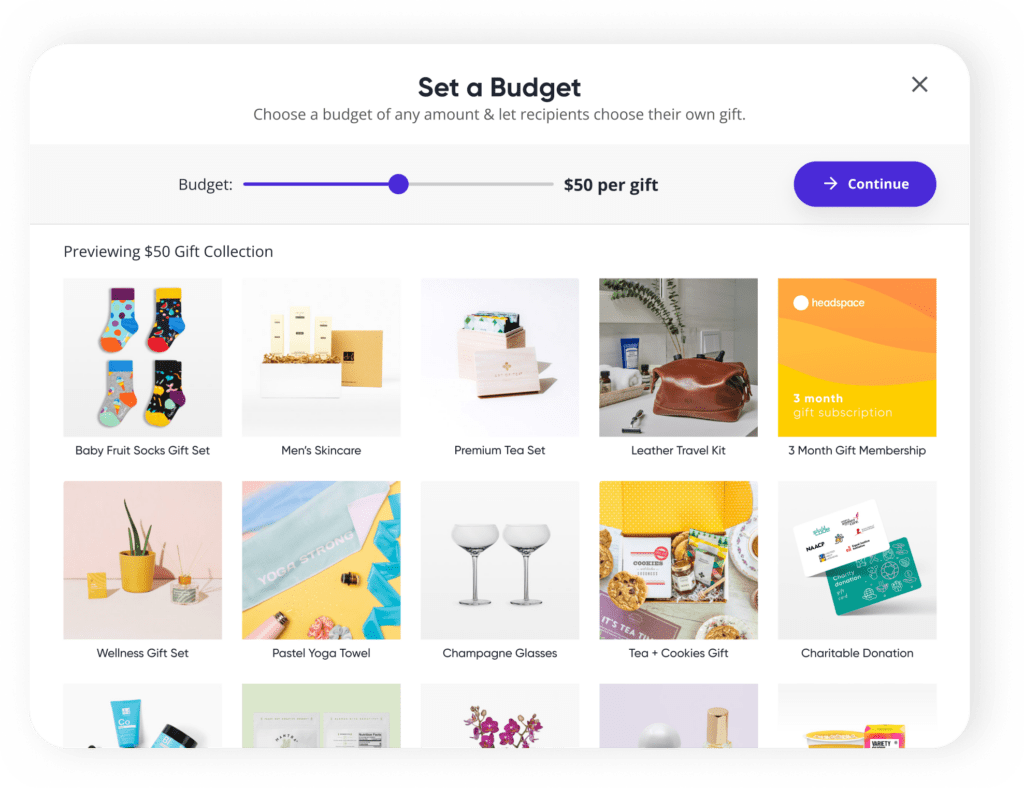 A great way to thank your employees is to give employees the gift of choice. Rather than assuming what your employee would appreciate, give them the option to select a gift that best suits their unique needs and interests.
Caroo offers a program called Recipient Choice that allows you to set a budget, send a link, and let them take it from there!
You don't have to set aside a massive budget for these thank you gifts, but rather, identify a few options within your budget that you can gift frequently. Some gifting options include a digital gift card, a sweet treat, branded company swag, or an extra day off. Another way to customize these thank you gifts is to provide scaled gifting options that increase in value based on the reason you're thanking your employees.
The greater the employee accomplishment, the more thank you gift options are unlocked.
2) Say thank you from the entire team with a signed card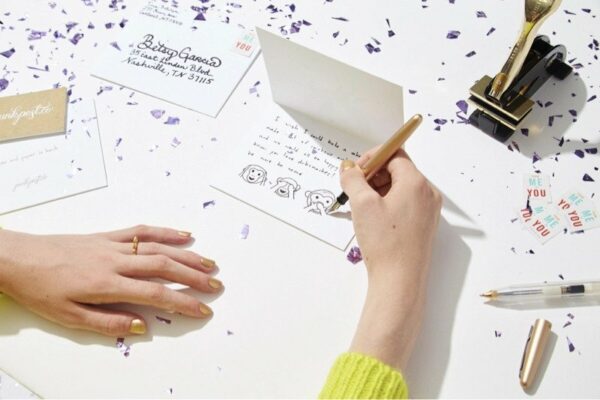 Get the whole squad together and say a group thank you to an employee who has gone above and beyond.
A signed card from colleagues is a great way to thank employees in a meaningful way. You can have the team members sign a physical thank you card or create a digital virtual card to send via email instead. Either way, the recipient is guaranteed to feel thanked and appreciated by their full team and this thoughtful gesture.
This type of thanks is extra valuable because it comes directly from the colleagues who work with the employee day in & day out – the people who see the passion that goes into this employee's hard work.
3) Talk to them 1 on 1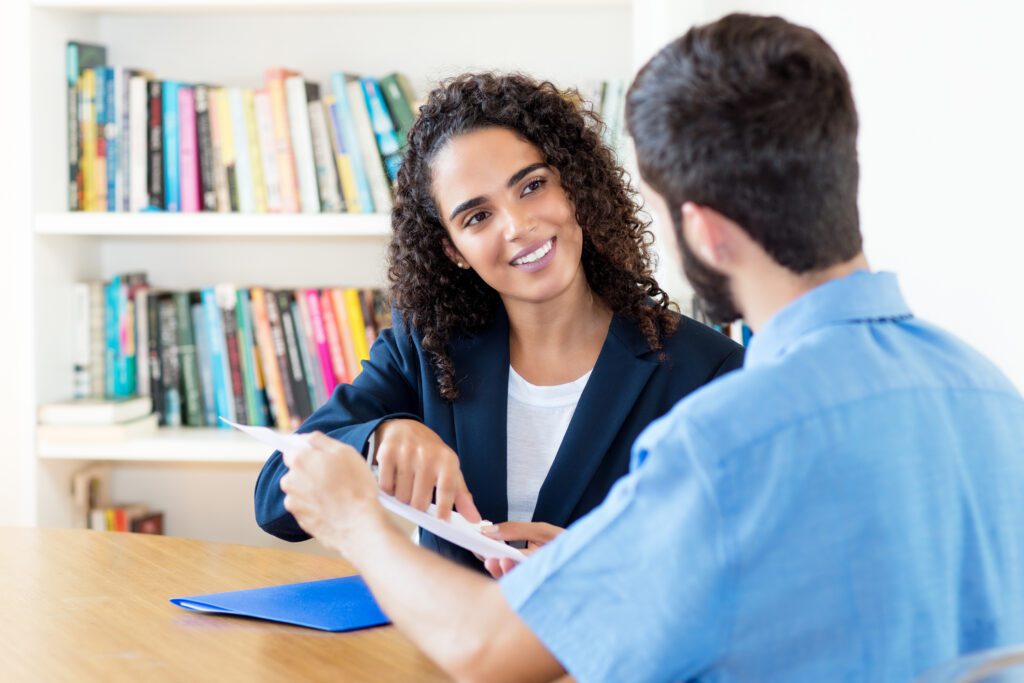 Talking to your employees one on one may seem like a conspicuously simple way to thank them, but having a heartfelt and sincere conversation with your employee can go a long way in expressing your gratitude for them.
The fact that you're dedicating time to speak with your employee individually shows that you are willing to prioritize moments of reflection and thankfulness, rather than just shoot over an email with the word 'thanks'. When speaking to them, be sure to include details on exactly what about their work performance you are thanking them for and clearly communicate the benefit of their contribution to the team or overall company success.
This ensures that the employee not only feels thanked, but also sees the positive impact their work is having on the company.
4) Give them a shout out in front of the entire team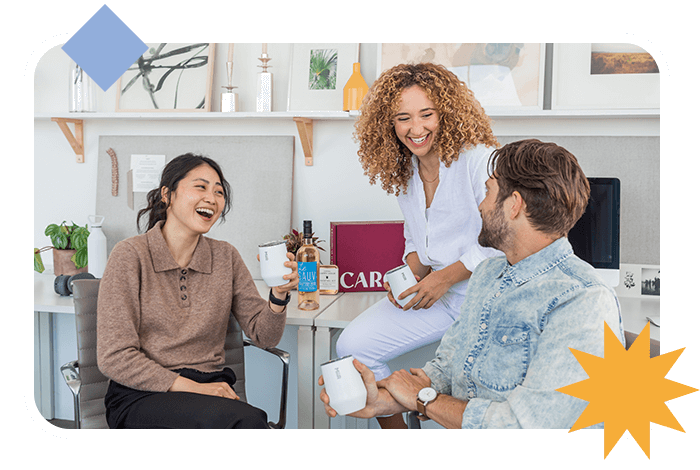 Rather than a one on one chat, thanking your employee via a shout out in front of the team is another awesome way to show gratitude.
A common employee recognition misconception is that there aren't ways to reward your employees without spending money. A team shout out costs you nothing, but can have such a massive impact on employee engagement & motivation.
Shouting out an employee's accomplishment in front of the team also serves as a motivating factor for other employees on that team to work hard and earn future shout outs.
5) Ask them how they like to be recognized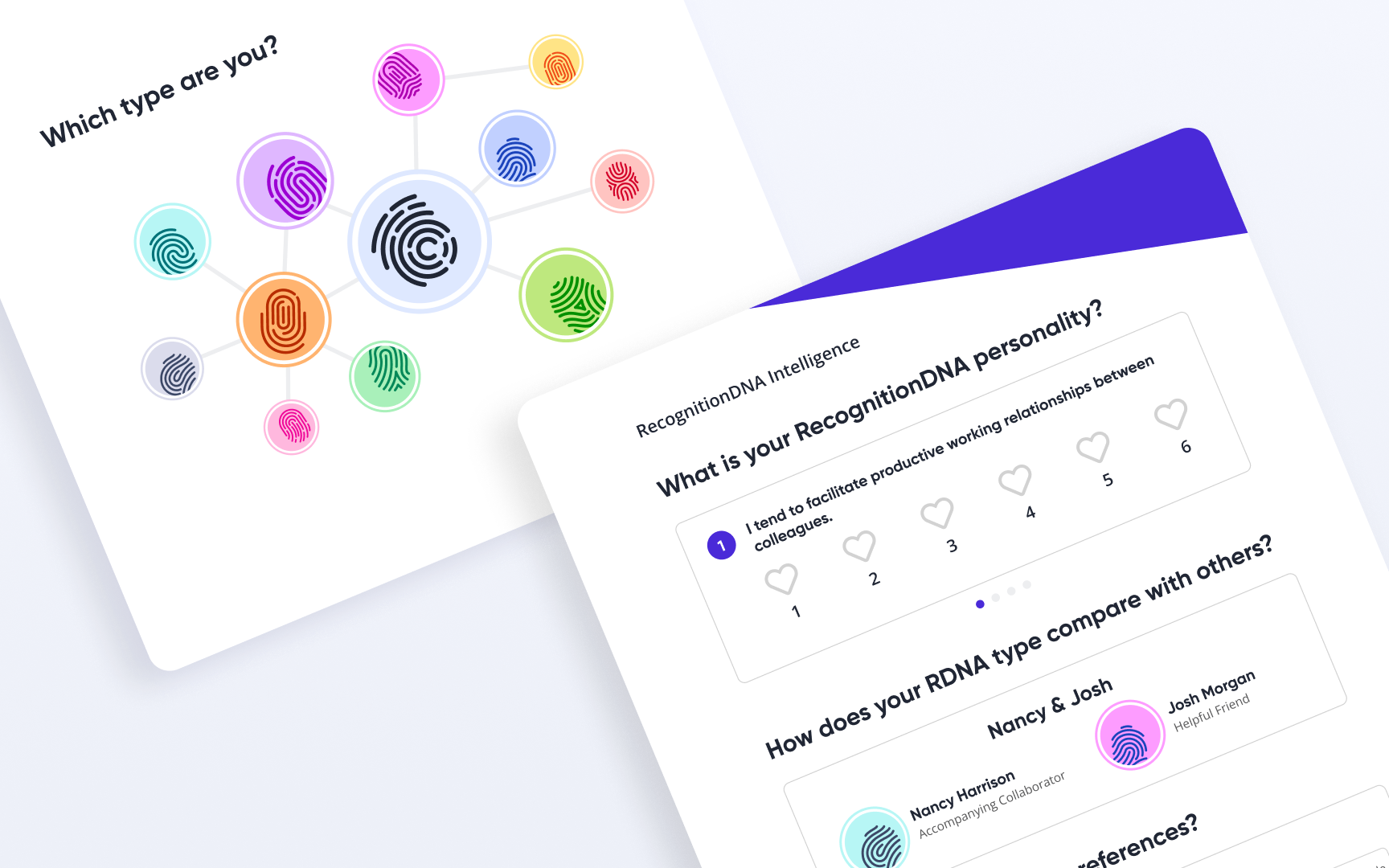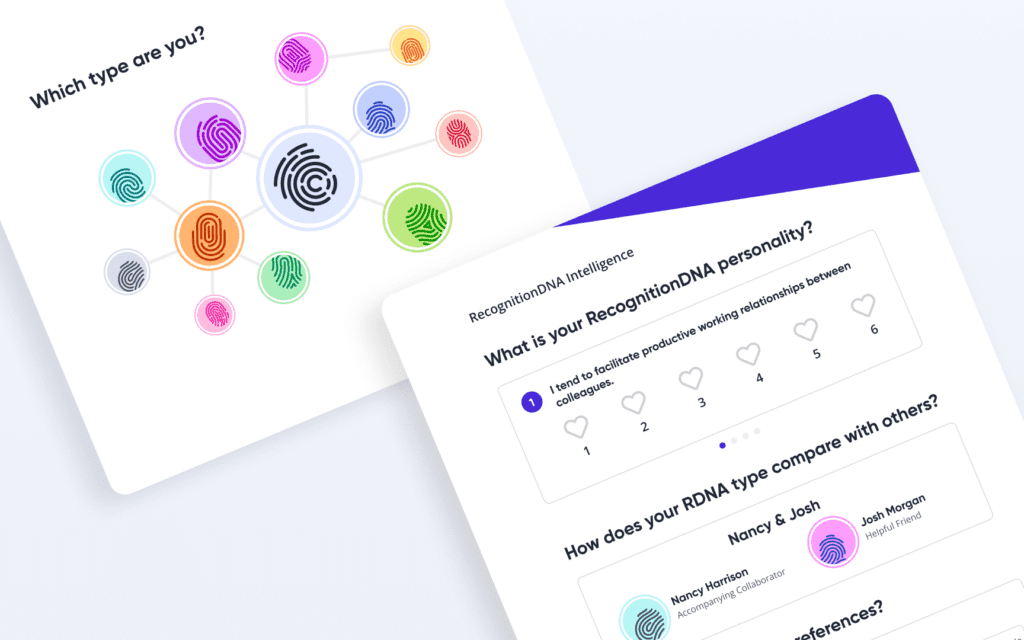 Another common employee recognition mistake is approaching recognition with a one-size-fits-all mentality.
Every employee is different and has unique needs and preferences when it comes to thanks and recognition. Rather than asking employees individually what those preferences are, consider conducting an employee recognition preferences questionnaire to obtain and store all of your employee responses. Some common recognition questions to include are how often they like to be recognized and if they prefer public or private recognition.
It's important to keep this feedback in mind when expressing thanks to a specific employee. Aligning how you express your thanks with your employee's preferences ensures that the employee feels comfortable and that the method of thanks has a positive impact.
Tip! To better find out the different recognition personalities at your organization, learn more about RecognitionDNA here 👈

And if you are ready to take the assessment for yourself, try it out!
6) Send them a personalized reward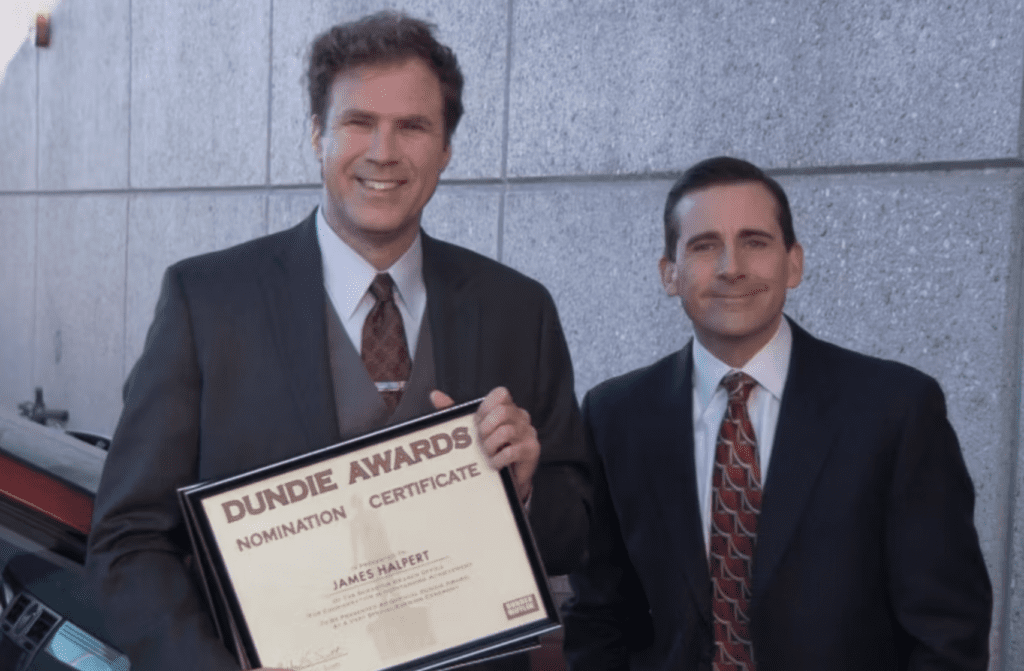 When it comes to recognition and thanks, personalization is a great way to go the extra mile and make your employee feel extra special.
Consider sending a personalized employee care package or wellness package that includes healthy snacks or a nice bottle of wine based on the employee's interests. You could also reward employees with a gift card to their favorite restaurant or a personalized gift box. The fun part of personalized perks is that you can get as creative as you'd like and craft a meaningful employee experience.
Personalized rewards leave a lasting impression with your employees because they show that you really know them and that you took the time to customize their reward.
7) Write them an employee recognition letter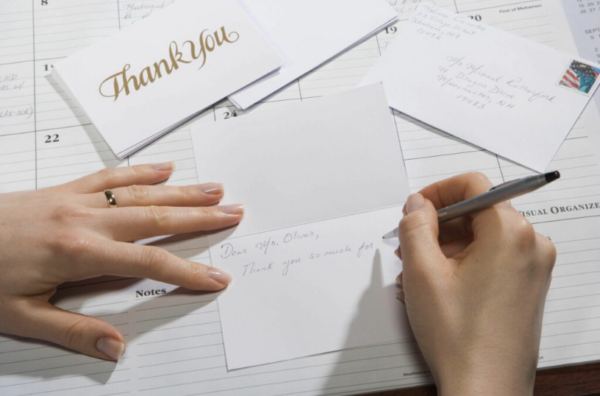 Keep the art of letter writing alive by sending an employee recognition letter! While writing a letter may seem a bit old school, this really is a great way to say thank you to your best employees for all of their amazing work.
Chances are they haven't received a hand-written letter in quite some time, so it will also be a fun surprise & delight moment in their day.
Keep in mind that your letter doesn't have to be lengthy in order to make an impact. As long as you're communicating your thanks and appreciation & the reasons behind that, the letter will mean a lot to your employee.
8) Share their "win" on your recognition wall
Whether in the office or virtually, sharing your employee wins on a recognition wall is a fantastic way to put your thanks for them on full display.
If you have a recognition wall in the office break room, try highlighting an employee win once a week to create some excitement around the opportunity for recognition. You can even have a team happy hour on Fridays to reveal the win and express your employee's shout out in front of the full team.
If weekly is too frequent, try posting an employee of the month instead. If your team has remote workers and your recognition wall is virtual, you can still use company-wide calls as a moment to shout out your star performers. This is not only a great way to show employee recognition, but also to bring the team together to celebrate and keep employee morale high.
9) Use food!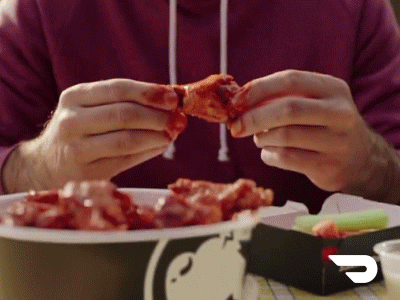 Another tried and true way to show appreciation for others is through food! Take your employee out to lunch at one of their favorite restaurants so you chat one on one about their recent accomplishments.
If thanking your full team, consider hosting a catered in-office group lunch or taking everyone out for a team happy hour. Group lunches and happy hours are fun & delicious team building opportunites.
Whether a small or larger group outing, thanking your employees with food is a great way to show them your appreciation. If you can't do an in-person team lunch or your employees remote work, consider sending them a gift card or having some delectable treats and goodies delivered to their door!
10) Celebrate important employee milestones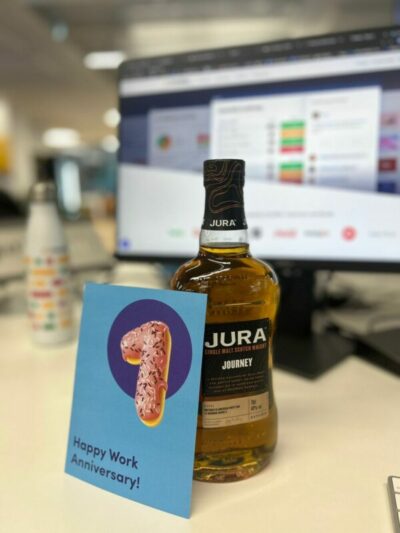 Another can't miss opportunity to show appreciation is celebrating important milestones such as work anniversaries, birthdays, and promotions.
Whether your company has an established employee milestone program or not, expressing thanks at key milestone moments is a must when it comes to employee recognition.
Milestone celebrations or rewards don't have to be lavish, but they do have to be meaningful and sincere. Keep this in mind when deciding how best to thank your employees during their next important milestone.
---
People Also Ask These Questions About Thanking Your Employees For Their Hard Work
Q: What should you include in an employee thank you message?
A: In an employee thank you message, you should include the specific reasons why you're thanking your employee, words of gratitude or praise, and a sincere message of appreciation for their great work.
Q: What are some thank you ideas for remote employees?
A: Some thank you ideas for remote employees include sending them a digital e-card virtually signed by their colleagues, meeting with them one on one on a video call to express thanks, and writing them a heartfelt letter or email thanking them for their contributions.
Q: How do I choose the right thank you idea for my team?
A: To choose the right thank you idea for your team, consider asking them their recognition & rewards preferences so you can customize how you show your appreciation based on the responses obtained.
Q: How do you show thanks to employees?
A: You show thanks to your employees by celebrating important milestones with them, shouting out their wins during a team call or posting about that win on a recognition wall, or sending them a personalized gift.
Q: What is the best way to thank employees?
A: The best way to thank employees is to speak sincere words of appreciation and show them just how valuable they are to company success. You can do this through one on one discussions or during whole team meetings. Consider pairing the words with an appreciation gift or employee care package as well!